Ballistol Quick Browning Kit
Manufacturer:

Ballistol

Product No.:

23653

EAN:

4017777236538

Immediately ready for shipping


Delivery time 1 - 3 days inside Germany (

further

)

for deliveries abroad to the EU, Switzerland (CH) or Luxembourg (LU) within 3 - 5 days
for all other foreign deliveries within 7 - 14 days

Sliding-scale prices
: from 28,36 EUR to 29,15 EUR
3 pcs
per 29,15 EUR
6 pcs
per 28,76 EUR
12 pcs
per 28,36 EUR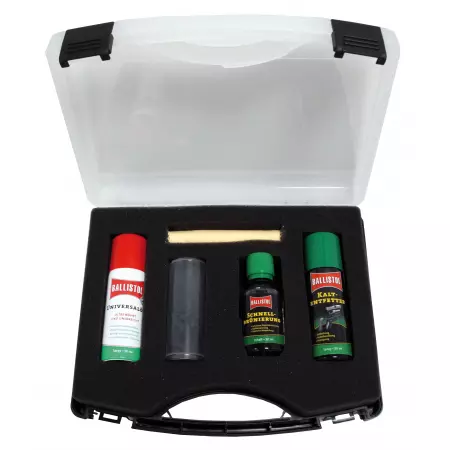 Ballistol Quick-Browning-Kit in a practical case
The Ballistol Quick-Browning-Kit contains:
Cleaning Cloth
Goat Hair Brush
Very fine steel wool ensures perfect browning results:

In preparation of the metal for the bluing you should use very fine steel wool with fineness degree 00. Also for oiling a new bluing this steel wool is the first choice. If you are working in a humid environment, a stainless steel wool is possibly of interest to you.


Ballistol Quick Browning for iron and steel is also available in the following sizes and bundles:

Browning for bronze, copper and brass can be found here:

Here you will find for the clean work with browning disposable gloves of nitrile, which we also offer in small quantities as from 10 Pieces.


Further Information


Get to know Ballistol Universal Oil – proven since 1904.

Here you will find all all Oiler and Dispenser. Here we offer environmentally friendly alternatives to spray cans with propellant gas and also precision oil pens to dose your oil drop by drop.
Ballistol Quick-Browning-Kit in a practical case.
---