VFG barrel cleaning felts and Gunex 50ml
Angebot: 5222
Artikelnummer:
This item is currently not available.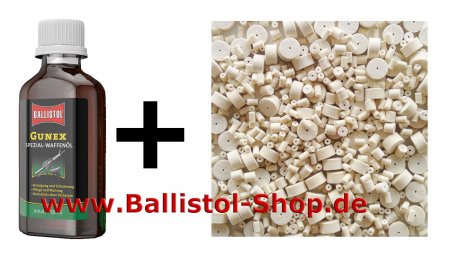 VFG cleaning felts + Gunex Gun-Oil
VFG barrel cleaning felts and Gunex Gun-Oil in a worthwhile kit.
We've combined for you all VFG products with Ballistol products in affordable complete sets. You always save money compared to buying the products sseparately.
In this set you get:
Short description of the VFG Cleaning Felts:
VFG barrel cleaners made of pure woollen felt are used for final cleaning, oiling and degreasing and are minimally larger than the actual calibre of the weapon. This means that the woollen felt element is squeezed together on being pushed through the barrel, so optimally and completely removing all the dirt.
The detailed description you will find under VFG barrel cleaning felts.
Short description of Gunex Gun Oil:
Gunex Gun Oil is the perfect oil for the long-term preservation of bare metallic parts, even in extreme conditions (-50°C up to 100°C). Gunex Gun Oil removes powder and tombac residues, ensures that the complete mechanisms of rifles, pistols and revolvers run smoothly, cares and protects.
Volume: 50 ml in a glass bottle
The detailed description you will find under Gunex Gun Oil.
VFG sets with Ballistol products are available in all combinations for an affordable package price:
All sets are available with a choice of:
Ballistol oil
Gunex Gun Oil
GunTec Barrel Cleaner
Either only with the VFG felts of your choice or complete with the VFG cleaning rod and the felts of your choice.
The sets with the cleaning rods can be found here:
VFG Products sseparately and in Kits without Cleaning Rods you can find under VFG Products and Kits
Here you will find all Products from VFG at a glance.

Further Information

Here you find all Gun oils at a glance


Here you find all chemical and manual barrel cleaner


Universal Gun care cloth for all surfaces and each chemial.
The spezial fabric of the gun care cloth is neutral against each surfaces and materials and extra absorbent.


Here you find all Products for gun care at a glance.


Get to know Ballistol Universal Oil – proven since 1904.

Oilers and Dispensers. Here we offer environmentally friendly alternatives to spray cans with propellant gas and also precision oil pens to dose your oil drop by drop.

VFG barrel cleaning felts and Gunex Gun-Oil in a worthwhile kit.
Kennzeichnung gemäß Verordnung (EG) Nr. 1272/2008 [CLP/GHS]


Signalwort: Gefahr

Gefahrenhinweise für Gesundheitsgefahren

H304 Kann bei Verschlucken und Eindringen in die Atemwege tödlich sein.
H412 Schädlich für Wasserorganismen, mit langfristiger Wirkung.

Sicherheitshinweise

Allgemeines

P102 Darf nicht in die Hände von Kindern gelangen.

Prävention

P273 Freisetzung in die Umwelt vermeiden.

Reaktion

P301 + P310 BEI VERSCHLUCKEN: Sofort GIFTINFORMATIONSZENTRUM/Arzt/... anrufen.
P331 KEIN Erbrechen herbeiführen.

Lagerung

P405 Unter Verschluss aufbewahren.

Entsorgung

P501 Inhalt/Behälter Recycling zuführen.
---