Bore-Cleaning Kit Solo Mil
Product No.:

BSET10352

Immediately ready for shipping


Delivery time 1 - 3 days inside Germany (

further

)

for deliveries abroad to the EU, Switzerland (CH) or Luxembourg (LU) within 3 - 5 days
for all other foreign deliveries within 7 - 14 days
45,50 EUR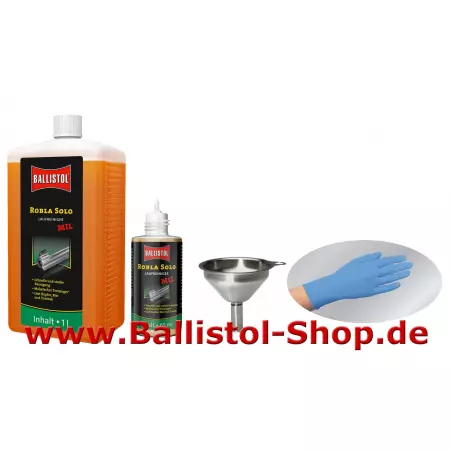 Solo Mil barrel cleaner refill set
The popular barrel cleaner Robla Solo Mil is available in the small dosing bottle and in the large liter bottle. The small dosing bottle of the barrel cleaner is refillable, as the dosing tip is attached and not glued.
With this set you get
Here you can find the complete description of the barrel cleaner.

Solo Mil barrel cleaner refill set

Further Information


Here you find all Gun oils at a glance


Here you find all chemical and manual barrel cleaner


Universal Gun care cloth for all surfaces and each chemial.

The spezial fabric of the gun care cloth is neutral against each surfaces and materials and extra absorbent.


Here you find all Products for gun care at a glance.


Get to know Ballistol Universal Oil – proven since 1904.




Oilers and Dispensers. Here we offer environmentally friendly alternatives to spray cans with propellant gas and also precision oil pens to dose your oil drop by drop.

Kennzeichnung gemäß Verordnung (EG) Nr. 1272/2008 [CLP/GHS]


Signalwort: Achtung

Gefahrenhinweise für Gesundheitsgefahren

H315 Verursacht Hautreizungen.
H319 Verursacht schwere Augenreizung.
H335 Kann die Atemwege reizen.

Sicherheitshinweise

Allgemeines

P102 Darf nicht in die Hände von Kindern gelangen.

Prävention

P260 Staub/Rauch/Gas/Nebel/Dampf/Aerosol nicht einatmen.
P264 Nach Gebrauch Hände gründlich waschen.
P271 Nur im Freien oder in gut belüfteten Räumen verwenden.
P280 Schutzhandschuhe/Schutzkleidung/Augenschutz/Gesichtsschutz tragen.

Reaktion

P301 + P330 + P331 BEI VERSCHLUCKEN: Mund ausspülen. KEIN Erbrechen herbeiführen.
P303 + P361 + P353 BEI KONTAKT MIT DER HAUT (oder dem Haar): Alle beschmutzten, getränkten Kleidungsstücke sofort ausziehen. Haut mit Wasser abwaschen/duschen.
P305 + P351 + P338 BEI KONTAKT MIT DEN AUGEN: Einige Minuten lang behutsam mit Wasser spülen. Eventuell vorhandene Kontaktlinsen nach Möglichkeit entfernen. Weiter spülen.
P310 Sofort GIFTINFORMATIONSZENTRUM oder Arzt anrufen.

Lagerung

P403 + P233 An einem gut belüfteten Ort aufbewahren. Behälter dicht verschlossen halten.
P405 Unter Verschluss aufbewahren.

Entsorgung

P501 Inhalt/Behälter Recycling zuführen.
---