Ballistol Animal ‐ First Aid Set for Pets
Angebot: 21975
Artikelnummer:
This item is currently not available.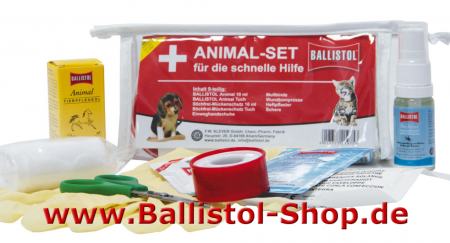 Ballistol Animal ‐ First Aid and Outddor Set for Pets.
Minor injuries and wounds, your pet has incurred while playing with other dogs e.g, you can quickly treat on the way and prevent infection. Also the effective insect repellent Stichfrei helps your animal to move blithely in the nature.
The Ballistol First Aid Kit for Animals includes everything you need again insects, for small accidents or after scramble for the first aid:
Insect repellent Tissue
Disposable gloves
Gauze bandage
Wound compress
band-aid
Scissors
Use insect repellents safely. Before use always read the label and product information.
Here you find all sizes and variations of Animal care oil.
Ballistol Animal ‐ First aid and Outddor set for animals.
---