Gun care kit complete from Ballistol
Manufacturer:

Ballistol

Product No.:

23650

EAN:

4017777236507

Immediately ready for shipping


Delivery time 1 - 3 days inside Germany (

further

)

for deliveries abroad to the EU, Switzerland (CH) or Luxembourg (LU) within 3 - 5 days
for all other foreign deliveries within 7 - 14 days

Sliding-scale prices: anzeigen
3 pcs
per 58,50 EUR
12 pcs
per 57,06 EUR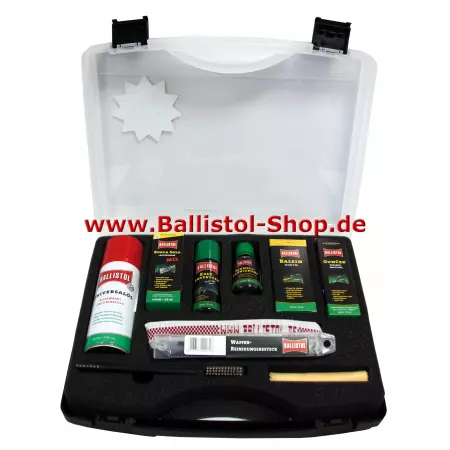 Ballistol Gun care set
The Ballistol Gun care set in a practical box contains all what you need for a careful maintenance of your guns. Therefore the Ballistol gun care set is always an acceptable gift for all gun enthusiasts.
200 ml spray Ballistol Universal Oil for the allround care.
65 ml Robla Solo MIL cleans each rifle barrel and dissolves and removes residues of copper, tombac and lead.
50 ml Balsin Stock Oil regenerates and protects each wooden gun stock from influences of the environment.
50 ml spray GunCer firearm tuning with ceramic additives
With each 50 ml Robla cold degreaser spray and Klever Quick Browning you can repair damages of brownings or create new brownings.
Additionally the Gun Care Kit contains a lot of helpfully utensils for cleaning and maintaining like a brush, a cleaning-weapon-cloth and of course detailed descriptions of the products.
Detailed descriptions of the single components of the gun care kit you will find here:

Further Information

Here you find all Gun oils at a glance


Here you find all chemical and manual barrel cleaner


Universal Gun care cloth for all surfaces and each chemial.
The spezial fabric of the gun care cloth is neutral against each surfaces and materials and extra absorbent.


Here you find all Products for gun care at a glance.


Get to know Ballistol Universal Oil – proven since 1904.

Oilers and Dispensers. Here we offer environmentally friendly alternatives to spray cans with propellant gas and also precision oil pens to dose your oil drop by drop.

---