Sanitizer
Manufacturer:

Ballistol

Immediately ready for shipping


Delivery time 1 - 3 days inside Germany (

further

)

for deliveries abroad to the EU, Switzerland (CH) or Luxembourg (LU) within 3 - 5 days
for all other foreign deliveries within 7 - 14 days
Sliding-scale prices
: from 3,36 EUR to 48,75 EUR
150 ml
3
3,55 EUR
10
3,44 EUR
24
3,36 EUR
500 ml
3
9,71 EUR
10
9,44 EUR
20
9,30 EUR
1 liter
3
14,58 EUR
10
14,17 EUR
20
13,96 EUR
5 liter
3
48,75 EUR
10
47,51 EUR
150 ml
3,65 EUR*


(Groundprice: 24,33 EUR pro Liter)

Product No.:

29126

500 ml
9,99 EUR*


(Groundprice: 19,98 EUR pro Liter)

Product No.: 29111 / EAN: 4017777291117

1 liter
14,99 EUR*


(Groundprice: 14,99 EUR pro Liter)

Product No.: 29113 / EAN: 4017777291131

5 liter
49,99 EUR*


(Groundprice: 10,00 EUR pro Liter)

Product No.: 29112 / EAN: 4017777291124
*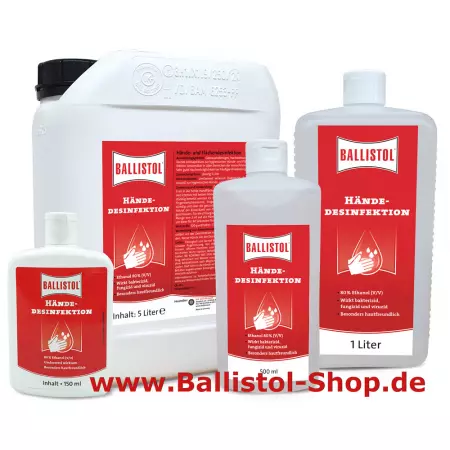 Ballistol disinfectant – hand disinfection
The Ballistol disinfectant is a highly effective alcoholic antiseptic for hygienic hand disinfection. It is particularly skin-friendly and has a comprehensive effect. The ready-to-use disinfectant acts as a bactericidal, fungicidal and virucidal. It also works with enveloped viruses like SARS-CoV-2.
Hand disinfection
Particularly skin-friendly
Very good skin tolerance with frequent use
Has a comprehensive effect: bactericidal, fungicidal and virucidal
Even with enveloped viruses such as SARS-CoV-2
Great increase in hygiene
Ready to use
Also approved for professional users
Use of hand disinfection
The Ballistol disinfectant for hand disinfection can be use in all areas of human hygiene.
Heavily soiled hands should be cleaned with soap and water before disinfection.
Let wet hands dry before disinfection.
Place 3 ml of disinfectant in the palm of your hand and immediately rub in intensively with both hands for 15 to 30 seconds so that the hands are completely wetted.
Characteristics
Active ingredient: ethanol 80% (V / V)
Appearance: Colorless
Odor: alcoholic
Solubility in water: miscible
Flash point: approx. 19°C (method DIN 51755)
Initial boiling point: 78°C (with regard to solvents)
Melting point: -114 ° C (regarding solvent)
Ignition temperature:> 425°C
Vapor pressure: approx. 59 hPa (at 20°C)
Relative density: approx.0.9 g / cm3 (at 15 ° C & 1013 hPa)
Lower explosion limit: 3.5% by volume (with regard to solvents)
Upper explosion limit: 15% by volume (with regard to solvents)
Solvent content: approx. 80 vol%
Ballistol disinfectant is available in a 500 ml and 1 liter bottle and in a 5 liter canister.
Kennzeichnung gemäß Verordnung (EG) Nr. 1272/2008 [CLP/GHS]


Signalwort: Gefahr

Gefahrenhinweise für Gesundheitsgefahren

H225 Flüssigkeit und Dampf leicht entzündbar
H319 Verursacht schwere Augenreizung.

Sicherheitshinweise

Allgemeines

P102 Darf nicht in die Hände von Kindern gelangen.

Prävention

P210 Von Hitze, heißen Oberflächen, Funken, offenen Flammen sowie anderen Zündquellenarten fernhalten. Nicht rauchen.
P233 Behälter dicht verschlossen halten.

Reaktion

P305 + P351 + P338 BEI KONTAKT MIT DEN AUGEN: Einige Minuten lang behutsam mit Wasser spülen. Eventuell vorhandene Kontaktlinsen nach Möglichkeit entfernen. Weiter spülen.
P337 + P313 Bei anhaltender Augenreizung: Ärztlichen Rat einholen/Ärztliche Hilfe hinzuziehen.

Entsorgung

P501 Inhalt/Behälter Recycling zuführen.
---