Ballistol Quiz
Angebot: 29717
Hersteller: Ballistol
Artikelnummer: 29717
This item is currently not available.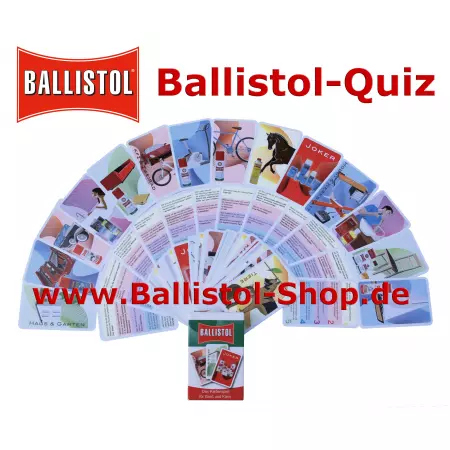 Ballistol Quiz
Not trivial: The Ballistol trivia game asks you questions on general knowledge about the following range of subjects:
Animals and Nature
Cars and bikes
Home and Garden
Care and Wellness
Hobby and Workshop
In addition, a few conundrums are inserted. Class cards and jokers make the game more exciting.
On 55 cards there are 275 questions and answers.
All texts in this game are in German language.
Ballistol offers the following card games:

Here you find unusual Gift Ideas – all at a glance.


Further Information


Get to know Ballistol Universal Oil – proven since 1904.

Here you will find all Ballistol Fan Products
---