Ballistol Gun-Care underlay of pure wool felt
Product No.:

33069

EAN:

4260419143347

Immediately ready for shipping


Delivery time 1 - 3 days inside Germany (

further

)

for deliveries abroad to the EU, Switzerland (CH) or Luxembourg (LU) within 3 - 5 days
for all other foreign deliveries within 7 - 14 days

Sliding-scale prices
: from 6,13 EUR to 6,82 EUR
3 pcs
per 6,82 EUR
20 pcs
per 6,56 EUR
40 pcs
per 6,47 EUR
60 pcs
per 6,39 EUR
100 pcs
per 6,13 EUR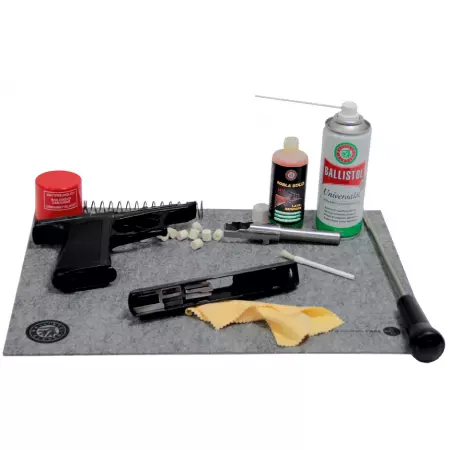 Cleaning underlay pad for handguns of wool felt
The handgun cleaning-pad is made of abrasion-resistant felt. The felt protects the surface of the gun while cleaning and the anti-slip coating on the underside prevent damage and contamination of the table.
The handgun cleaning pad is impervious to moisture and can be easily cleaned if necessary with Ballistol Degreaser or warm soapy water. The back is rubberized and prevents slippage of the pad and the penetration of cleaning fluids. So, the felt pad protects any surface from chemicals.
The high quality and durable cleaning pad is made of gray felt and looks not so dirty after use, as is the case with other colors.
The felt pad is designed specifically for the cleaning of handguns and has the following dimensions: width x height x thickness: 450 x 300 x 2.5 mm.

Further Information

Here you find all Gun oils at a glance


Here you find all chemical and manual barrel cleaner


Universal Gun care cloth for all surfaces and each chemial.
The spezial fabric of the gun care cloth is neutral against each surfaces and materials and extra absorbent.


Here you find all Products for gun care at a glance.


Get to know Ballistol Universal Oil – proven since 1904.

Oilers and Dispensers. Here we offer environmentally friendly alternatives to spray cans with propellant gas and also precision oil pens to dose your oil drop by drop.

Cleaning pad of wool felt for handguns.
---