Ballistol Care Cloths
Manufacturer:

Ballistol

Product No.:

23768

EAN:

4017777237689

Content: 3 piece

Immediately ready for shipping


Delivery time 1 - 3 days inside Germany (

further

)

for deliveries abroad to the EU, Switzerland (CH) or Luxembourg (LU) within 3 - 5 days
for all other foreign deliveries within 7 - 14 days
9,95 EUR
(Groundprice:

3,32 EUR per piece

)


Sliding-scale prices
: from 9,19 EUR to 9,64 EUR
3 pcs
per 9,64 EUR
10 pcs
per 9,34 EUR
20 pcs
per 9,19 EUR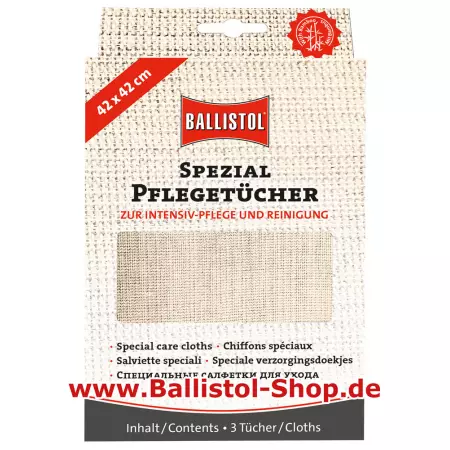 Care Cloths
Ballistol's care wipes come as a set of 3 in plastic-free packaging.
Special care cloth or universal care cloth?
On the packaging, the Ballistol care cloths are labeled as special care cloth. However, this refers more to the special blend of the fabric. With 40% cotton, 30% bamboo fiber and robust synthetic fiber, this cloth is indeed universal.
The sturdy care cloths are absorbent, lint-free and washable. The Ballistol care cloths are suitable in the household as well as for the fine cleaning of machines, for gun care or car care.
Specifications of Ballistol care cloths 3 pieces in a set
Size: approx. 42 x 42 cm
Weight: approx. 35 g per piece
Material: 40 % cotton, 30 % bamboo, 30 % polyester
Cleaning: 60 °C in the washing machine
Ballistol lettering in woven pattern
Content: 3 cloths
---