Counter Display Start-Wonder + Insulating-Spray + Creep-Öil
Product No.:

22320

Shipping time: Immediately
56,98 EUR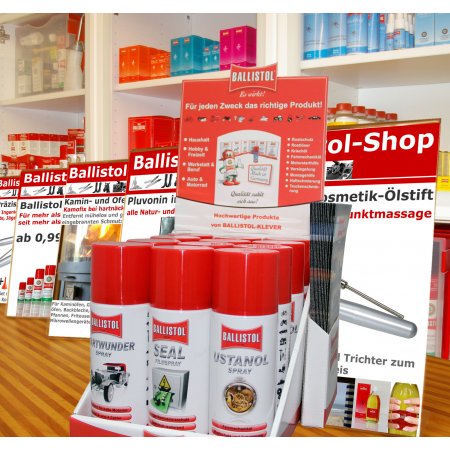 Counter Display: 12 quality Ballistol-Products: each 4 x start wonder, insulating spray and creep oil.
With this counter display you generate impulse buying at each checkut.
Short-Description of the engineering sprays:
The detailed description you will find unter Starting Spray, insulating spray and creep oil.
Klever Starting Spray Startwonder is a cold start spray for all combustion engines
The Start Wonder is for all combustion engines like gasoline engines, diesel engines, gas engines, and biodiesel. Startwonder aides authentic in coldness, clamminess and old spark plugs.
The Start Wonder provides fast and efficient help for starting-problems with cold and wet engines. Usable all the year round. Ideal for car, motorbike, moped, tractor, lawn-mower and emergency power generators. Excellently service-proved with two- and four-stroke engines as well as Diesel and rotation engines.
Seal insulating spray and film spray for corrosion protection, insulating and sealing.
Seal film spray and insulating spray was developed for extreme climatic conditions around the world. No matter whether the conditions are icy, sauna-bath-like, full of ultraviolet radiation and gleaming light or salt fog – Seal film spray and insulating spray provides a protective sealing and insulation. Perfect long-lasting, hardwearing anti-corrosion, even if exposed to aggressive gases, seawater and industrial sewage as well as acid rain.
The main features of Seal film spray and insulating at a glance
To sealing surfaces of all kinds
Surfaces discolors are no longer.
Treated surfaces retain their appearance.
Sealed and coated with a transparent, clutch resistant protective film.
Even for extreme weather conditions in Siberian cold and humid tropical heat.
Protects also during frost, steam sauna climate, blazing UV sunlight, salt fog and salt water.
Provides long-term corrosion protection against corrosive gases, industrial waste water and acid rain.
Protects all bare metal of machines, equipment, tools, etc.
To isolate electrical connections and rust protection.
The storage preservation of pieces of iron, steel and nonferrous metals and moulds, fittings, gearbox, etc.
Suitable as a rust inhibitor for metals during storage.
The PVC film is easily removable.
In model making for the isolation of electrical connections and contacts, and for storage and surface protection of spare parts.
Ustanol neutral oil and penetrating oil.
Ustanol neutral oil and penetrating oil has a very low viscosity and an equally low surface tension so that this very low-viscosity oil is enormous creep active and adheres strongly to metals. Ustanol neutral oil is suitable for maintenance, lubricating, and conservation of precise mechanical apparatus, precision instruments, machines and manufacturing equipment, tools, as well as workshop machines, any metal parts. If applied to metals, Ustanol penetrating oil is reliable to creep under water and by its low surface tension it is able to protect even the most inaccessible spot from rust. Ustanol is also proved as an excellent contact oil and it is resistant to aging and does not resinify. Ustanol creep oil guarantees the reliable operation from -50 ° C to 150 ° C, is free of solvents.
The most important properties oil at a glance:
Protects against rust
lubricates and loosens
For cleaning of surfaces
preserves all metals
Best creep oil
Environmentally friendly
neutral oil with a pleasant odor.
Counter Display: 12 quality Ballistol-Products: each 4 x start wonder, insulating spray and creep oil.
---