Jump Start Spray
Manufacturer:

Ballistol

Product No.:

25500

EAN:

4017777255003

Content: 200 ml

Immediately ready for shipping


Delivery time 1 - 3 days inside Germany (

further

)

for deliveries abroad to the EU, Switzerland (CH) or Luxembourg (LU) within 3 - 5 days
for all other foreign deliveries within 7 - 14 days
5,79 EUR
(Groundprice:

28,95 EUR per Liter

)


Sliding-scale prices
: from 5,33 EUR to 5,62 EUR
3 pcs
per 5,62 EUR
6 pcs
per 5,54 EUR
12 pcs
per 5,46 EUR
18 pcs
per 5,38 EUR
24 pcs
per 5,33 EUR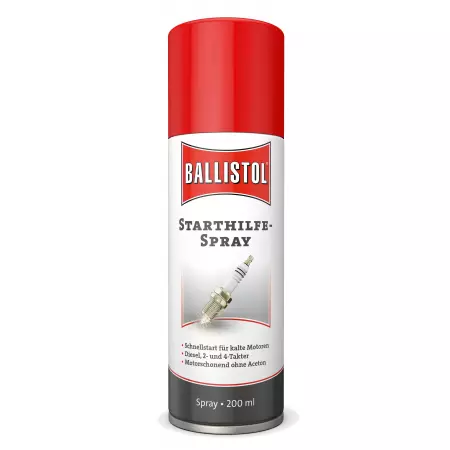 Jump start spray
Ballistol jump start spray is suitable for all combustion engines. As a reliable cold starter, it ensures a quick start of the engine in cold, damp or sooty spark plugs.
What Ballistol jump start spray can do:
Enables the starting of damp and cold engines.
Suitable in all seasons for a quick start of all engines.
Reliable starting aid for engines after a long standstill and for sooty spark plugs.
For car, motorcycle, scooter, boats and moped.
For tractors, lawn mowers, lawn trucks, snow blowers, power saws, etc.
Suitable for 2-stroke engines and for 4-stroke engines.
For all internal combustion engines and fuels such as diesel, gasoline, biodiesel, gas engines and Wankel engines.
Application of jump start spray
Spray jump-start spray for approx. 2 seconds on the air filter intake or directly into the carburetor.
For gasoline engines, apply a little gas during starting.
Diesel engines are started at full throttle without preheating.
Frequently asked questions about jump start spray
How does jump start spray work?
Technically, jump start spray is a special fuel. It is sprayed into the engine's intake air. The jump start spray is much more flammable than the fuel used to run the engine. The fuel is ignited in the mixture by the instantaneous ignition of the jump-start spray. This allows internal combustion engines to be started quickly when cold, damp or sooty spark plugs make cold starting difficult.
Sometimes it takes two people
If the engine is very stubborn, spraying and then starting may not be immediately successful. It is best to spray jump start spray and start at the same time. There is no problem with scooters and motorcycles with electric starters. But with lawn mower and chainsaw, which are started with the starter rope, it does not work at the same time. The same applies to the start of cars, agricultural vehicles and all engines where you can not start alone and spray at the same time.
So, unless you can start in two steps (first spray then start), ask a second person to join you. One person pulls the starter rope or turns the ignition key and the other person sprays at the same time.
Where to spray jump start spray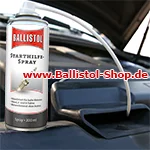 Jump start spray is usually sprayed into the air cleaner intake.
If this is not effective in rare cases or when the air filter is clogged, the air filter can also be removed to spray directly into the carburetor.
Jump start spray for scooters
The jump start spray is also suitable for scooters. Again, it is sprayed directly into the intake manifold and started at the same time.
Jump start spray for lawn mowers
To start the lawn mower with jump start spray, spray into the air filter or carburetor for about one to two seconds and then start the engine immediately.
Do-it-yourself jump start spray and alternatives
Jump start spray consists of highly flammable substances. We do not recommend mixing your own or spraying unsuitable alcohols or other chemicals into the engine. Ballistol jump start spray is formulated to be gentle on the engine and does not contain acetone, for example.
Brake cleaner is also popular as a jump start spray when nothing else is available. You can have success with this, but such products are formulated for degreasing and are not ideal for cold starting an engine.
Silicone spray is also widely discussed as a jump start spray. We do not recommend this.
Multifunction oil is also apparently used as a jump-start spray. This only works if the corresponding oil contains a lot of gasoline or similar substances. In our opinion, however, such a multifunction oil would be more of a cleaning agent. In any case, oils do not help with cold starting.
How can the cold-start properties of the engine be tested quickly?
If you want to improve the cold-start properties of engines by various measures, you always face the problem of needing a cold engine after each change. For this purpose there is special cold spray, which cools down e.g. the carburetor or other parts of the mixture preparation to up to -52 °C in a few seconds. So you have the possibility to test the cold start properties immediately after the respective changes to the settings.

For the jump start spray here you get also a 60 cm long spray lance, to inject the starting spray deep into the air filter box.
Furthermore you get the starting spray in a bundle with the big spray lance.

Kennzeichnung gemäß Verordnung (EG) Nr. 1272/2008 [CLP/GHS]


Signalwort: Gefahr

Gefahrenhinweise für Gesundheitsgefahren

H222 Extrem entzündbares Aerosol.
H336 Kann Schläfrigkeit und Benommenheit verursachen.

Sicherheitshinweise

Allgemeines

P102 Darf nicht in die Hände von Kindern gelangen.

Prävention

P210 Von Hitze, heißen Oberflächen, Funken, offenen Flammen sowie anderen Zündquellenarten fernhalten. Nicht rauchen.
P211 Nicht gegen offene Flamme oder andere Zündquelle sprühen
P251 Nicht durchstechen oder verbrennen, auch nicht nach Gebrauch.
P271 Nur im Freien oder in gut belüfteten Räumen verwenden.

Reaktion

P304 + P340 BEI EINATMEN: Die Person an die frische Luft bringen und für ungehinderte Atmung sorgen.

Lagerung

P405 Unter Verschluss aufbewahren.
P410 + P412 Vor Sonnenbestrahlung schützen. Nicht Temperaturen über 50 °C/122 °F aussetzen

Entsorgung

P501 Inhalt/Behälter Recycling zuführen.
---