1-part Cleaning Rod for long guns
Angebot: 71757060
Artikelnummer:
This item is currently not available.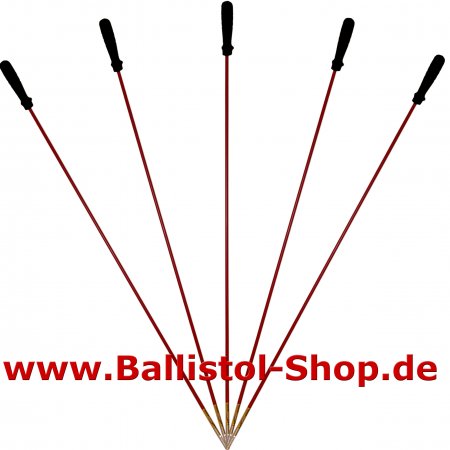 One-piece cleaning rod for long guns
Cleaning rod made of steel with plastic coat
The cleaning rod made of steel with plastic sheath is available for the calibers 6 mm, 7 mm and 8 mm. The cleaning rod is equipped with a rotatable handle and a removable towbar. The wiping length is either 80 or 95 cm.
Please note:
Cleaning sticks for caliber 6 or 7 mm have a male thread (1/8 inch), the corresponding accessories like e.g. Wire brushes, wool wipers, bristle brushes and oakum-holder have the matching internal thread.
The 8 mm cleaning rod has an internal thread (M5) and therefore requires accessories with external thread. The attachments of AKAH in caliber 8 mm, 9.3 mm and all shotgun calibers already have an external thread.

With the adapter you are always flexible and can also attach accessories with a 1/8 inch male thread on a cleaning rod which also has a 1/8 inch external thread. This applies to all cleaning sticks made by VFG and AKAH.

What does wipe length mean?
The wiping length of the cleaning stick is the length without handle and without attachments such as brushes, etc. This means that the specified wiping length should be at least as long as the barrel. If this is the case, the brush attachment can be completely pushed out of the mouth during cleaning. Especially with wire brushes, this is important so that the hard bristles do not have to reverse in the barrel. The following illustration illustrates this again.


Further Information

Here you find all Gun oils at a glance


Here you find all chemical and manual barrel cleaner


Universal Gun care cloth for all surfaces and each chemial.
The spezial fabric of the gun care cloth is neutral against each surfaces and materials and extra absorbent.


Here you find all Products for gun care at a glance.


Get to know Ballistol Universal Oil – proven since 1904.

Oilers and Dispensers. Here we offer environmentally friendly alternatives to spray cans with propellant gas and also precision oil pens to dose your oil drop by drop.

---