Robla Solo Mil barrel cleaner
Manufacturer:

Ballistol

Immediately ready for shipping


Delivery time 1 - 3 days inside Germany (

further

)

for deliveries abroad to the EU, Switzerland (CH) or Luxembourg (LU) within 3 - 5 days
for all other foreign deliveries within 7 - 14 days
Sliding-scale prices
: from 5,32 EUR to 33,94 EUR
65 ml
3
5,62 EUR
6
5,54 EUR
12
5,45 EUR
18
5,37 EUR
24
5,32 EUR
1 liter
3
33,94 EUR
10
32,93 EUR
65 ml
5,79 EUR*


(Groundprice: 89,08 EUR pro Liter)

Product No.:

23532

/ EAN:

4017777235326

1 liter
34,95 EUR*


(Groundprice: 34,95 EUR pro Liter)

Product No.: 23540 / EAN: 4017777235401
*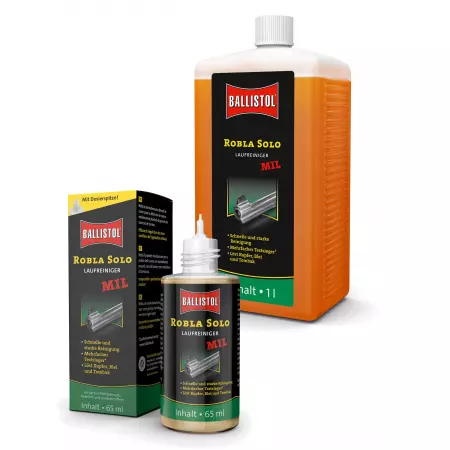 Robla Solo Mil barrel cleaner
Robla Solo Mil the tested and unsurpassed barrel cleaner for all guns
What is good has got one enemy – that which is better. This is the reason why Robla Solo was developed further and replaced by Robla Solo MIL. On the basis of the excellent results of a series of tests performed by the German Army's Institute of Military Research, there followed the decision to use Robla Solo MIL even with special units of the armed forces.
Robla Solo MIL consists of very special compounds including ammonia. This formula has not only the power to dissolve any residue of copper, tombac and zinc but also lead, the number one enemy to the precision of a gun. Steel, chrome and nickel are not attacked by Robla Solo MIL.
In case of heavy metal residue it is a good idea to put Robla Solo MIL into the barrel, which must be plugged on one side by means of cork or gum stopper, and then wait for a couple of hours, best overnight, until Robla Solo MIL has done its job. If there is just slight residue to be removed, it suffices to pull a tow (Sucol, Sucolin or Sucolin Extra) or a felt stopper soaked with Robla Solo MIL through the barrel several times.
Further valuable and important hints are to be found in our Guide To The Care Of Weapons or in the leaflet included in the package.
Here you find more barrel cleaners.

For best results use our Applicator for chemicals. No dripping, no inhomogeneous application.

Here you will find for the clean and safe work with barrel cleaner disposable gloves of nitrile, which we also offer in small quantities as from 10 Pieces.

Further Information
Here you find all Gun oils at a glance


Here you find all chemical and manual barrel cleaner


Universal Gun care cloth for all surfaces and each chemial.
The spezial fabric of the gun care cloth is neutral against each surfaces and materials and extra absorbent.


Here you find all Products for gun care at a glance.


Get to know Ballistol Universal Oil – proven since 1904.

Oilers and Dispensers. Here we offer environmentally friendly alternatives to spray cans with propellant gas and also precision oil pens to dose your oil drop by drop.

Robla Solo Mil the tested and unsurpassed barrel cleaner for all guns.
Kennzeichnung gemäß Verordnung (EG) Nr. 1272/2008 [CLP/GHS]


Signalwort: Achtung

Gefahrenhinweise für Gesundheitsgefahren

H315 Verursacht Hautreizungen.
H319 Verursacht schwere Augenreizung.
H335 Kann die Atemwege reizen.

Sicherheitshinweise

Allgemeines

P102 Darf nicht in die Hände von Kindern gelangen.

Prävention

P260 Staub/Rauch/Gas/Nebel/Dampf/Aerosol nicht einatmen.
P264 Nach Gebrauch Hände gründlich waschen.
P271 Nur im Freien oder in gut belüfteten Räumen verwenden.
P280 Schutzhandschuhe/Schutzkleidung/Augenschutz/Gesichtsschutz tragen.

Reaktion

P301 + P330 + P331 BEI VERSCHLUCKEN: Mund ausspülen. KEIN Erbrechen herbeiführen.
P303 + P361 + P353 BEI KONTAKT MIT DER HAUT (oder dem Haar): Alle beschmutzten, getränkten Kleidungsstücke sofort ausziehen. Haut mit Wasser abwaschen/duschen.
P305 + P351 + P338 BEI KONTAKT MIT DEN AUGEN: Einige Minuten lang behutsam mit Wasser spülen. Eventuell vorhandene Kontaktlinsen nach Möglichkeit entfernen. Weiter spülen.
P310 Sofort GIFTINFORMATIONSZENTRUM oder Arzt anrufen.

Lagerung

P403 + P233 An einem gut belüfteten Ort aufbewahren. Behälter dicht verschlossen halten.
P405 Unter Verschluss aufbewahren.

Entsorgung

P501 Inhalt/Behälter Recycling zuführen.
---