Mairol Organic and Mineral Fertilizer
Artikelnummer: 47100
Inhalt: 1 Liter
This item is currently not available.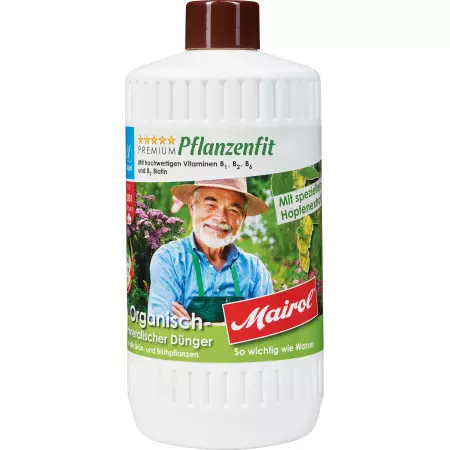 Mairol Organic and Mineral Fertilizer Plant Fit
Mairol organic and mineral fertilizer is a highly effective combination formulation of hop extract and valuable mineral raw materials obtained in a special process.
The plant nutrients nitrogen, phosphate and potassium are therefore present both in organic and in mineral form and thus together ensure good growth and magnificent flowers.
The effect of this fertilizer is enhanced by the addition of a variety of trace elements, valuable vitamins and phytohormones.
The humic substances and enzymes contained in the hop extract also increase the absorption capacity of the nutrients, thus promoting natural soil fertility and at the same time protecting the leaves through an enzyme layer (eg in orchid cultivation).
Mairol organic and mineral fertilizer is thus equally well suited for flower, leaf and root formation.
The organic and mineral fertilizer is the ideal choice for the following plants
Houseplants
Tub plants
Potted plants
Balcony plants
Perennials and garden flowers
Ornamental shrubs
Vegetable and garden fruits
The Mairol quality guarantee for the organic and mineral quality fertilizer
Mairol turbo-active effect: Selected chelated trace elements are immediately available to the plant.
With high-quality vitamins B1, B2, B6 and B7 biotin
With special hop extract
For all green and flowering plants
High yield: 1 liter of organic-mineral fertilizer is sufficient for 250 l irrigation water
NPK fertilizer 7 + 4.5 + 5
Fertilizer recommendation and dosage for organic-mineral fertilizer
Fertilize from March to October:
Fertilize plants in boxes and pots once a week.
Fertilize perennials and garden flowers as well as vegetables and garden fruits twice a week.
Fertilize shrubs twice a month.
Dosage: 4 ml of organic mineral fertilizer per 1 liter of irrigation water.
Content: 1000 ml.
Here you find all Mairol fertilizers.
Kennzeichnung gemäß Verordnung (EG) Nr. 1272/2008 [CLP/GHS]
Sicherheitshinweise

Prävention

P261 Einatmen von Staub/Rauch/Gas/Nebel/Dampf/Aerosol vermeiden.
P262 Nicht in die Augen, auf die Haut oder auf die Kleidung gelangen lassen.
---