Horse shampoo 500 ml
This item is currently not available.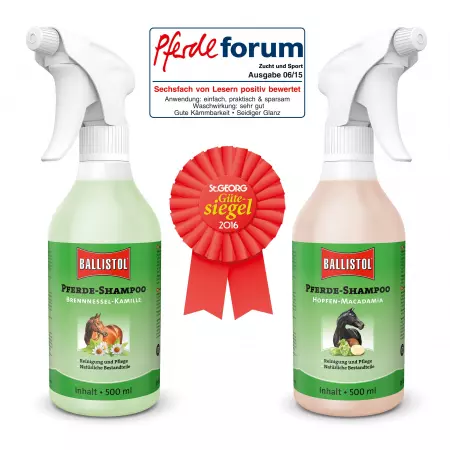 Horse shampoo 500 ml
Ballistol horse shampoo cleanses the skin and coat gently. Mane and tail get smooth and easy to comb. The coat color is deepened by the natural pigments. The hair is coated and make new color brilliance and more luminous. The pH skin neutral shampoo has moisturizing ingredients that help maintain the skin barrier. Dermatologically tested with "Very Good".
Application
Simply spray to damp skin, knead mane and tail in addition, leave on and then rinse with clear water.
Ballistol Horse Shampoo in two different varieties
Our horse shampoo is available in the following varieties:
Hop Macadamia

Natural shine. With Hops and macadamia extracts.
With valuable, natural ingredients from the macadamia nut and hops.

Nettle Chamomile

Pure nature. With nettle and chamomile extracts.
With valuable, natural ingredients from the nettle and chamomile.
For sensitive horses, grey horses, white horses and foals we recommend our Horse Shampoo Sensitive.
---