Ballistol tin sign with thermometer
Manufacturer:

Ballistol

Product No.:

29817

EAN:

4017777298178

Immediately ready for shipping


Delivery time 1 - 3 days inside Germany (

further

)

for deliveries abroad to the EU, Switzerland (CH) or Luxembourg (LU) within 3 - 5 days
for all other foreign deliveries within 7 - 14 days
12,95 EUR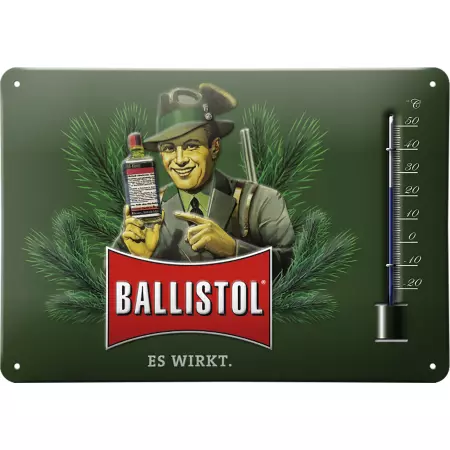 Ballistol tin sign with thermometer
The Ballistol Tin Sign with retro style thermometer with historic Ballistol bottle is a welcome gift for any hunter and shooter and for all other Ballistol fans.
Prefabricated clean holes for easy attachment of the metal sign on the wall are also included.
3-D embossing
The tin sign is visually impressive over the complete Moiv from the hunter over the fir to the historic Ballistol bottle and the logo and every single letter. The metal sign has a depth of about 2 cm.
Thermometer
The scale of the thermometer ranges from -20 °C bis 50 °C.
Limited edition
The tin sign is, like many other products that you previously received here in the Ballistol fan shop also limited. The tin cans, which were sold out after a short time can not be reordered. The metal signs are now the current fan article and collector's item. The tin sign with thermometer is sold while supplies last.
Note for collectors: This is the last product that additionally contains the old Klever logo on the box. The logo will no longer be used on products and packaging since it was renamed Ballistol-GmbH in 2017. The metal plate itself shows the Ballistol logo.

Here you find unusual Gift Ideas – all at a glance.


Further Information


Get to know Ballistol Universal Oil – proven since 1904.

Here you will find all Ballistol Fan Products
Order the Ballistol Story for free in Ballistol Shop as booklet.
---