Anti Dog Repellent Spray 50 ml
Hersteller: Ballistol
Artikelnummer: 24000
Inhalt: 50 ml
This item is currently not available.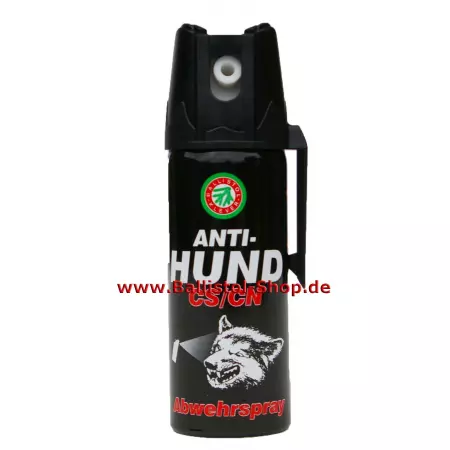 Anti Dog repellent spray is especially suited for self defense against attacking dogs and other animals.

Please note:
Here you get a suitable Holster for safekeeping transport and quick access to the defense spray.
Dogs frequently attack joggers, walkers, postmen and children. Depending on the size of the biting dog the consequences of such attacks are often drastic: from serious injuries to disfigurements and mutilations. But you can protect yourself – by means of Anti-Dog.
Animals like wolves and dogs are biologically programmed by their instincts and behavioral patterns to hunt down their prey. Quick or hasty movements, as they are quite common with joggers, mailmen or kids, arouse the dog's natural instinct to hunt. The dog's nature involves catastrophic consequences. Remaining motionless and talking calmly to the dog can make the animal less aggressive and may prevent it from attacking. If this does not seem to help, then Anti-Dog can save you in this dangerous situation. Direct the spray-beam right onto the muzzle and eyes and the attacking dog will be stopped immediately and will retreat. The special combination of ingredients and the powerful beam of the spray protect you safely.
Panic lock prevents misuse in emergency situations:
All our defense sprays with less than 100 ml capacity are equipped with a patented panic lock. This prevents in case of intuitive action in emergency situations, that the trigger will not properly operated. No matter if you press the panic lock or the trigger of defense sprays, the irritant will be released immediately. Nevertheless, the closure protects reliable from accidental triggering during transport or in the hand pocket. So you have the full safety on your side.
Here you find the variations of Pepper sprays and cs-sprays:
Pepper Spray FOG 40 ml
Pepper Spray FOG 50 ml
Pepper Spray FOG 100 ml
Pepper Spray Jet 40 ml
Pepper Spray Jet 50 ml
Pepper Spray Jet 100 ml
Counter display 6 x Pepper KO FOG + 6 x Defenol CS
Counter display 12 x Pepper Spray
Further defense sprays at the Ballistol-Shop:
Anti dog defense spray
Defenol CS defense spray
Ballistol CS KO with CS gas

Further Information

Paypal prohibits the payment of defense sprays. If you buy a CS spray, pepper spray or a dog repellent spray from us, all payment methods except Paypal are available for you.


Get to know Ballistol Universal Oil – proven since 1904.
Body Care
Here you will find body care products from massage oils to the proven Neo Ballistol Home Remedy as well as useful information about care oil and nail oil.

Anti Dog repellent spray is especially suited for self defense against attacking dogs and other animals.
Kennzeichnung gemäß Verordnung (EG) Nr. 1272/2008 [CLP/GHS]


Signalwort: Gefahr

Gefahrenhinweise für Gesundheitsgefahren

H222 Extrem entzündbares Aerosol.
H315 Verursacht Hautreizungen.
H319 Verursacht schwere Augenreizung.
H334 Kann bei Einatmen Allergie, asthmaartige Symptome oder Atembeschwerden verursachen.
H335 Kann die Atemwege reizen.

Sicherheitshinweise

Allgemeines

P102 Darf nicht in die Hände von Kindern gelangen.

Prävention

P210 Von Hitze, heißen Oberflächen, Funken, offenen Flammen sowie anderen Zündquellenarten fernhalten. Nicht rauchen.
P251 Nicht durchstechen oder verbrennen, auch nicht nach Gebrauch.
P264 Nach Gebrauch Hände gründlich waschen.
P280 Schutzhandschuhe/Schutzkleidung/Augenschutz/Gesichtsschutz tragen.

Reaktion

P303 + P361 + P353 BEI KONTAKT MIT DER HAUT (oder dem Haar): Alle beschmutzten, getränkten Kleidungsstücke sofort ausziehen. Haut mit Wasser abwaschen/duschen.
P305 + P351 + P338 BEI KONTAKT MIT DEN AUGEN: Einige Minuten lang behutsam mit Wasser spülen. Eventuell vorhandene Kontaktlinsen nach Möglichkeit entfernen. Weiter spülen.
P337 + P313 Bei anhaltender Augenreizung: Ärztlichen Rat einholen/Ärztliche Hilfe hinzuziehen.

Lagerung

P410 + P412 Vor Sonnenbestrahlung schützen. Nicht Temperaturen über 50 °C/122 °F aussetzen

Entsorgung

P501 Inhalt/Behälter Recycling zuführen.
---