Defense Spray Ballistol CS-KO 50 ml
Manufacturer:

Ballistol

Product No.:

24230

EAN:

4017777242300

Content: 50 ml
6,99 EUR
(Groundprice:

139,80 EUR per Liter

)


This article will be available again shortly.
Sliding-scale prices
: from 6,46 EUR to 6,80 EUR
3 pcs
per 6,80 EUR
12 pcs
per 6,61 EUR
24 pcs
per 6,46 EUR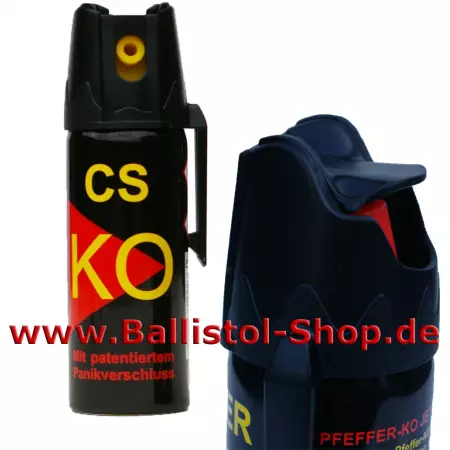 Ballistol CS KO defense spray 50 ml
Defenol-CS and KO-CS Gas with the superb active agent CS ensures your safety. Fast ready to use, strikingly effective: A short touch on the spray button directed towards the attacker's face will make the criminal unable to make a move. His eyelids will shut like in a cramp, his skin will burn like hellfire, the rascal will gasp for air and he will be ready for being busted by the police. Defenol-CS and KO-CS Gas shows their effects up to several hours depending on the intensity of use of the spray-button. The content suffices for many repeated applications. Defenol-CS and KO-CS Gas are toxicologically harmless if applied according to instructions. It does not lead to permanent damages whatsoever and is fully registered and licensed with the authorities for use without any gun license.Defenol-CS and KO-CS Gas is available in 40 ml and 50 ml spray cans with a highly practical carrier clip attached to the protective cap. The 40ml can is small enough to fit into the tender palm of a lady but big enough to tackle several criminals. The seal, which guarantees you that the spray has not been used before, should be removed when bought.
Panic lock prevents misuse in emergency situations:
All our defense sprays with less than 100 ml capacity are equipped with a patented panic lock. This prevents in case of intuitive action in emergency situations, that the trigger will not properly operated. No matter if you press the panic lock or the trigger of defense sprays, the irritant will be released immediately. Nevertheless, the closure protects reliable from accidental triggering during transport or in the hand pocket. So you have the full safety on your side.
Here you find all defense sprays at a glance.

Further Information

Paypal prohibits the payment of defense sprays. If you buy a CS spray, pepper spray or a dog repellent spray from us, all payment methods except Paypal are available for you.


Get to know Ballistol Universal Oil – proven since 1904.
Body Care
Here you will find body care products from massage oils to the proven Neo Ballistol Home Remedy as well as useful information about care oil and nail oil.

Ballistol CS KO defense spray 50 ml.
Kennzeichnung gemäß Verordnung (EG) Nr. 1272/2008 [CLP/GHS]


Signalwort: Gefahr

Gefahrenhinweise für Gesundheitsgefahren

H222 Extrem entzündbares Aerosol.
H229 Behälter steht unter Druck: Kann bei Erwärmung bersten.
H319 Verursacht schwere Augenreizung.
H335 Kann die Atemwege reizen.
H336 Kann Schläfrigkeit und Benommenheit verursachen.

Sicherheitshinweise

Allgemeines

P102 Darf nicht in die Hände von Kindern gelangen.

Prävention

P210 Von Hitze, heißen Oberflächen, Funken, offenen Flammen sowie anderen Zündquellenarten fernhalten. Nicht rauchen.
P251 Nicht durchstechen oder verbrennen, auch nicht nach Gebrauch.
P261 Einatmen von Staub/Rauch/Gas/Nebel/Dampf/Aerosol vermeiden.
P271 Nur im Freien oder in gut belüfteten Räumen verwenden.

Reaktion

P303 + P361 + P353 BEI KONTAKT MIT DER HAUT (oder dem Haar): Alle beschmutzten, getränkten Kleidungsstücke sofort ausziehen. Haut mit Wasser abwaschen/duschen.
P304 + P340 BEI EINATMEN: Die Person an die frische Luft bringen und für ungehinderte Atmung sorgen.
P305 + P351 + P338 BEI KONTAKT MIT DEN AUGEN: Einige Minuten lang behutsam mit Wasser spülen. Eventuell vorhandene Kontaktlinsen nach Möglichkeit entfernen. Weiter spülen.
P312 Bei Unwohlsein GIFTINFORMATIONSZENTRUM/Arzt/... anrufen.
P337 + P313 Bei anhaltender Augenreizung: Ärztlichen Rat einholen/Ärztliche Hilfe hinzuziehen.

Lagerung

P405 Unter Verschluss aufbewahren.
P410 + P412 Vor Sonnenbestrahlung schützen. Nicht Temperaturen über 50 °C/122 °F aussetzen

Entsorgung

P501 Inhalt/Behälter Recycling zuführen.
---