Wellness-Oil Gift-Kit 2 X 100 ml + 2 X 10 ml + Gift-Box
Hersteller: Ballistol
Artikelnummer: 26760
Inhalt: 240 ml
This item is currently not available.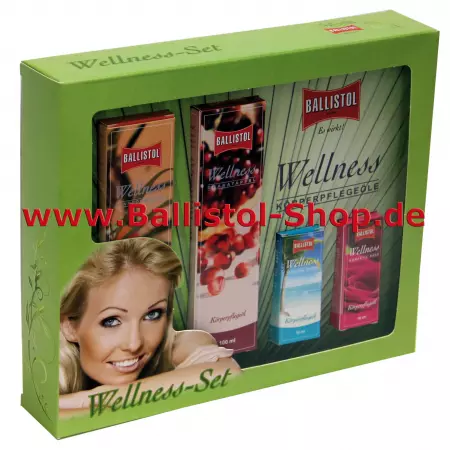 Original Ballistol Wellness Kit with each sort of the Wellness-Oils + Gift-Box.
SALE - production stopped - the last Ballistol wellness sets BBD until the end of February 23
Ballistol wellness oils are manufactured on the basis of natural plant oils and genuine ethereal oils. Grape seed, rice and jojoba oils care for the skin with their valuable substances. They enter into the skin easily, treat it with moisture and leaving behind a comfortable, supple feeling. Plant oils support the skin functions and assist with the regeneration of stressed and dry skin. They act as a protective layer against external influences. The skin becomes noticeably smoother. The aromatic fragrances of the oils have a beneficial effect on both body and soul.
The Ballistol-Wellness-Kit contains:

Here you find the little Wellness-Oil-Box with 4 x 10 ml Wellness Oil.


Here you find each Ballistol Wellness-Oils sseparately with detailed descriptions.


Here you find unusual Gift Ideas – all at a glance.


Further Information

Here you will find special products for body care.


Neo Ballistol Home Remedy: Relax, care and heal.

Tropicalized insect repellent with UV-Filter, which keeps you annoying insects from the body - whether mosquitoes, ticks, flies, etc.


Also Ballistol Universal Oil is suitable for body care and wound disinfection. More about this can be found in the Ballistol Story.


You have pets - here you will find proven care products for animal care. Ballistol Animal is a universal and effective care oil for all animals.

Original Wellness Kit from Ballistol with each sort of the Wellness-Oils + Gift-Box
---