Zeck-Protec Socks ‐ Anti-Tick-Socks
Angebot: 857370
Artikelnummer:
This item is currently not available.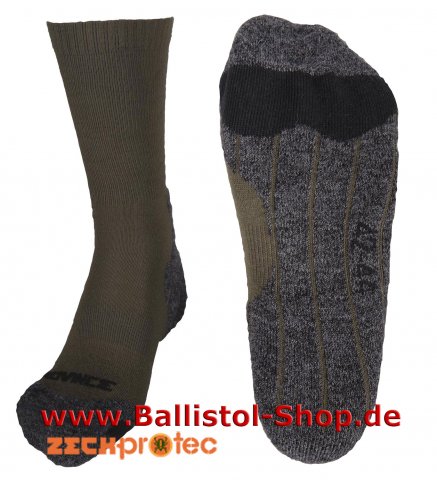 No ticks with ZECK-Protec
Rovince tick-resistant clothing is unique in Europe through the use of the patented ZECK-Protec.
ZECK-Protec is a sophisticated tick protection that has been developed for professional use. Rovince clothing is equipped with this tick-resistant protection during production. Tick-resistant clothing sold by Rovince is always impregnated upon purchase and requires no further treatment in its lifetime. ZECK-Protec is therefore very suitable for heavy professional use.
ZECK-Protec is completely safe and certified. The impregnation is odourless, skin friendly, UV-proofed and machine washable. The protection remains active on clothing for an unprecedented duration. Tests have shown that results remain optimal even after 80 washes. In short, ZECK-Protec guarantees professional tick-resistant protection without the need for post-treatment!
Here you find all Zeck-Protec Products at a glance

Further Information
Here you find our products for body care from massage oils to the proven Neo Ballistol home remedy or care oil and nail oil.

For your animals, there is also the special insect repellent for animals. Stichfrei Animal ensures that annoying and dangerous insects leave your animals alone. There is also Stichfrei as a tropicalized insect repellent for humans and especially for children.

You have pets – here you will find proven care products for animal care. Ballistol Animal is a universal and effective care oil for all animals.
Get to know Ballistol Universal Oil – proven since 1904 without additional shipping.
Zeck-Protec Socks ‐ Anti-Tick-Socks.
---