Brake cleaner bulk container
Immediately ready for shipping


Delivery time 1 - 3 days inside Germany (

further

)

for deliveries abroad to the EU, Switzerland (CH) or Luxembourg (LU) within 3 - 5 days
for all other foreign deliveries within 7 - 14 days
50 Liter drum
469,00 EUR*


(Groundprice: 9,38 EUR pro Liter)

Product No.:

25347

200 Liter drum
1.409,00 EUR*


(Groundprice: 7,05 EUR pro Liter)

Product No.: 25348
*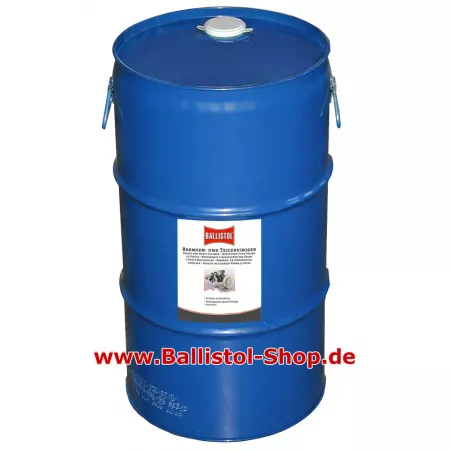 Brake cleaner bulk container
Ballistol Brake Cleaner in 50 liter drum or 200 liter is suitable for cleaning and degreasing dirty, oily or greasy machine parts, industrial parts, brakes as well as brake discs. The parts cleaner can also be used without hesitation for clutch linings and brake pads. It removes oil, grease, dirt and even dried and resinified oils. The parts cleaner exhausts without leaving residues and has a pleasant fragrance and high material compatibility. Ballistol's brake cleaner can also be used on paintwork and most types of plastic and rubber without any problems. An extra strong spray jet maximizes the cleaning effect and thus makes the parts cleaner also an ideal chain cleaner for coarse dirt.
Because this parts cleaner also evaporates completely at the molecular level and flashes off without leaving residues in the physical sense, Ballistol Brake Cleaner and Parts Cleaner is also suitable for pretreatment of all surfaces. Examples are preparations for painting, burnishing, sealing or bonding.
Here you find Break Cleaner Spray and Break Cleaner Canister 5 liters.
---