Degreaser Hand-Sprayer
Immediately ready for shipping


Delivery time 1 - 3 days inside Germany (

further

)

for deliveries abroad to the EU, Switzerland (CH) or Luxembourg (LU) within 3 - 5 days
for all other foreign deliveries within 7 - 14 days
Sliding-scale prices
: from 1,18 EUR to 70,96 EUR
5 Liter Degreaser + Hand Sprayer 250 ml (empty)
3
70,96 EUR
10
68,94 EUR
20
67,92 EUR
40
66,91 EUR
60
65,90 EUR
100
62,86 EUR
5 Liter Degreaser + Hand Sprayer 500 ml (empty)
3
70,95 EUR
10
68,95 EUR
20
67,96 EUR
40
66,96 EUR
60
65,96 EUR
100
62,96 EUR
Extra-Nozzle Fine (red)
3
1,43 EUR
10
1,37 EUR
20
1,34 EUR
40
1,30 EUR
60
1,27 EUR
100
1,18 EUR
Extra-Nozzle Extra-Fine (black)
3
1,43 EUR
10
1,37 EUR
20
1,34 EUR
40
1,30 EUR
60
1,27 EUR
100
1,18 EUR
5 Liter Degreaser + Hand Sprayer 250 ml (empty)
72,99 EUR*


Product No.:

23390#KP-VK250-PE

5 Liter Degreaser + Hand Sprayer 500 ml (empty)
72,95 EUR*

Product No.: 23390#KP-VK500-PE
Accessories:
Extra-Nozzle Fine (red)
1,49 EUR*

Product No.: SOHPD4

Extra-Nozzle Extra-Fine (black)
1,49 EUR*

Product No.: SOHPD3
*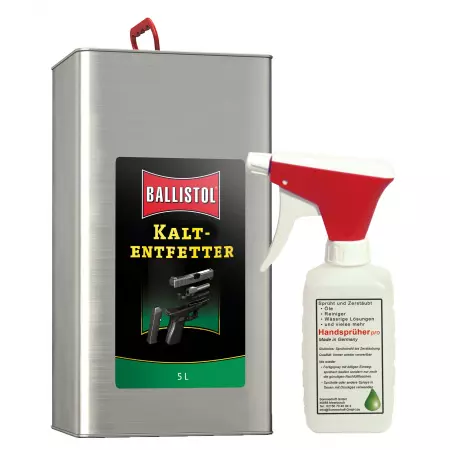 Degreaser + hand sprayer Pro for fine atomization
Degreasers and other thin liquids are difficult to atomize because most atomizer can atomize maximum aqueous solutions. With the extra-fine supplemental nozzle for the Hand Sprayer Pro, also degreasers and other volatile and very thin liquids can be atomised with no condensation. The hand sprayer is always supplied with the standard nozzle that atomizes all oils perfectly and also aqueous solutions for normal applications well. If a particularly homogeneous atomization is important, you should also order the extra fine nozzle for very low-viscosity media.
Atomize degreaser in pump sprayer
Cold Degreaser is usually sprayed into a customary spray can. Very low-viscosity fluids tend in the atomization for droplet formation. If a particularly homogeneous spray pattern is required, a very fine and precisely machined nozzle must be used. For the Hand sprayer Pro are available as accessories such particularly fine nozzles which can atomize volatile low viscosity liquids. The Hand Sprayer Pro is supplied always with the "standard nozzle", which can atomise viscous oils and aqueous solutions.

Further Information

Here you find all degreasers.


Do you know Ballistol - since more than 110 years for more than 1000 possible applications.


From Precision Oil Pen to oil can - all Oiler and Dispenser at a glance.


So the steel will come nice black: browning from Klever.

Kennzeichnung gemäß Verordnung (EG) Nr. 1272/2008 [CLP/GHS]


Signalwort: Gefahr

Gefahrenhinweise für Gesundheitsgefahren

H225 Flüssigkeit und Dampf leicht entzündbar
H319 Verursacht schwere Augenreizung.
H336 Kann Schläfrigkeit und Benommenheit verursachen.

Sicherheitshinweise

Prävention

P210 Von Hitze, heißen Oberflächen, Funken, offenen Flammen sowie anderen Zündquellenarten fernhalten. Nicht rauchen.
P280 Schutzhandschuhe/Schutzkleidung/Augenschutz/Gesichtsschutz tragen.

Reaktion

P305 + P351 + P338 BEI KONTAKT MIT DEN AUGEN: Einige Minuten lang behutsam mit Wasser spülen. Eventuell vorhandene Kontaktlinsen nach Möglichkeit entfernen. Weiter spülen.

Lagerung

P403 + P233 An einem gut belüfteten Ort aufbewahren. Behälter dicht verschlossen halten.

Entsorgung

P501 Inhalt/Behälter Recycling zuführen.
---