Bristle brush for shotgun barrels
Immediately ready for shipping


Delivery time 1 - 3 days inside Germany (

further

)

for deliveries abroad to the EU, Switzerland (CH) or Luxembourg (LU) within 3 - 5 days
for all other foreign deliveries within 7 - 14 days
36 (.410)
1,83 EUR*


Product No.:

SC63A_410

20
1,83 EUR*

Product No.: SC63A_20

12
1,39 EUR*

Product No.: SC63A
*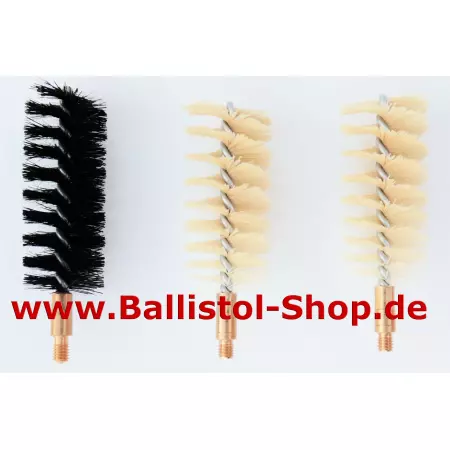 Bristle brush with outside thread for shotgun barrels
Here you will find the fitting cleaning rod for our bristle brushes.
Here you find also wire brushes of bronze and wool wiper

Dirty brushes are like new with our Parts Cleaner
Our bristle brush, wire brush and also the wool wiper can be cleaned perfectly by severe contamination for re-use again. Our parts cleaner is the tool of choice.

Further Information

Here you find all Gun oils at a glance


Here you find all chemical and manual barrel cleaner


Universal Gun care cloth for all surfaces and each chemial.
The spezial fabric of the gun care cloth is neutral against each surfaces and materials and extra absorbent.


Here you find all Products for gun care at a glance.


Get to know Ballistol Universal Oil – proven since 1904.

Oilers and Dispensers. Here we offer environmentally friendly alternatives to spray cans with propellant gas and also precision oil pens to dose your oil drop by drop.

Bristle brush with outside thread for shotgun barrels.
---