Felt holder for Ballistol cleaning felts
Manufacturer:

Ballistol

Immediately ready for shipping


Delivery time 1 - 3 days inside Germany (

further

)

for deliveries abroad to the EU, Switzerland (CH) or Luxembourg (LU) within 3 - 5 days
for all other foreign deliveries within 7 - 14 days
Sliding-scale prices
: from 3,98 EUR to 6,21 EUR
Universal felt holder for up to three felts
3
5,33 EUR
10
5,18 EUR
20
5,10 EUR
Felt holder for Shotgun Felts
3
6,21 EUR
10
6,03 EUR
20
5,94 EUR
Felt holder for one cleaning felt caliber .17 / 4 mm / 4,5 mm
3
4,17 EUR
10
4,05 EUR
20
3,98 EUR
Universal felt holder for up to three felts
5,49 EUR*


Product No.:

23256

/ EAN:

4017777232561

Felt holder for Shotgun Felts
6,39 EUR*

Product No.: 23257 / EAN: 4017777232578

Felt holder for one cleaning felt caliber .17 / 4 mm / 4,5 mm
4,29 EUR*

Product No.: 23237 / EAN: 4017777232370
*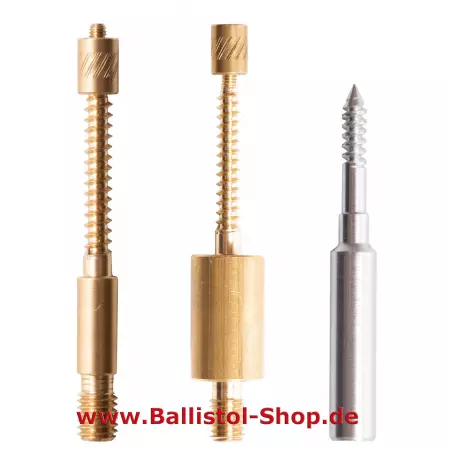 Felt holder for Ballistol cleaning felts
The universal felt holder can hold up to 3 cleaning felts and fits to all Ballistol cleaning rods and on most other cleaning rods. M5 male thread and 1/8" female thread.
The felt holder for shotgun cleaning felts is equipped with an M5 external thread.
The small felt holder can hold one felt for caliber .17 / 4 mm / 4.5 mm and is equipped with a 1/8" female thread.
All felt holders fit to the Ballistol cleaning rods and to many other cleaning rods, which are equipped with the same threads. For all other cleaning rods you will find the matching cleaning rod adapter for the Ballistol felt holders here.
---