Neo Ballistol Spray
Sliding-scale prices
: from 18,19 EUR to 62,25 EUR
250 ml Neo Ballistol + Hand Atomizer
3
20,92 EUR
10
20,24 EUR
20
19,89 EUR
40
19,55 EUR
60
19,21 EUR
100
18,19 EUR
1000 ml Neo Ballistol + Hand Atomizer
3
62,25 EUR
10
60,55 EUR
20
59,70 EUR
40
58,86 EUR
60
58,01 EUR
100
55,46 EUR
250 ml Neo Ballistol + Hand Atomizer
21,60 EUR*


Product No.:

26210#KP-VK250-PE

available soon

1000 ml Neo Ballistol + Hand Atomizer
63,95 EUR*

Product No.: 26240#KP-VK250-PE

available soon
*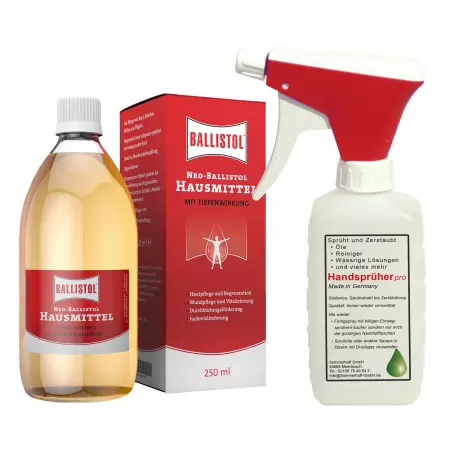 Neo Ballistol + hand sprayer for massage and physical therapy
It goes without saying that rich body care oil is not packed with propellant in a spray can. Nevertheless the desire for Neo Ballistol as Spray is understandable and comprehensible.
Neo-Ballistol Spray
In the range body care Neo-Ballistol is as versatile as Ballistol universal oil in all other areas. Because Neo Ballistol is widely used by physiotherapists and massage practices, we offer the popular body care oil especially for application on large areas of skin with the hand sprayer.
Also for wound care Neo Ballistol is used since over 80 years. Especially with abrasions it is more pleasant to spray Neo Ballistol as to apply conventionally.
The Hand sprayer for Neo Ballistol
The Hand Sprayer Pro (250 ml empty) can atomize oils as fine as conventional spray cans – but just much more environmentally friendly. A fine nozzle bore in combination with a special pump mechanism makes this possible. The set with the hand sprayer makes the difference: Neo Ballistol Spray.
Kennzeichnung gemäß Verordnung (EG) Nr. 1272/2008 [CLP/GHS]
Sicherheitshinweise

Allgemeines

P102 Darf nicht in die Hände von Kindern gelangen.
P103 Vor Gebrauch Kennzeichnungsetikett lesen.

Reaktion

P305 + P351 + P338 BEI KONTAKT MIT DEN AUGEN: Einige Minuten lang behutsam mit Wasser spülen. Eventuell vorhandene Kontaktlinsen nach Möglichkeit entfernen. Weiter spülen.

Lagerung

P404 In einem geschlossenen Behälter aufbewahren.

Entsorgung

P501 Inhalt/Behälter Recycling zuführen.
---