Mairol vegetable fertilizer
Immediately ready for shipping


Delivery time 1 - 3 days inside Germany (

further

)

for deliveries abroad to the EU, Switzerland (CH) or Luxembourg (LU) within 3 - 5 days
for all other foreign deliveries within 7 - 14 days
Sliding-scale prices
: from 7,31 EUR to 9,68 EUR
500 ml
3
7,74 EUR
12
7,50 EUR
24
7,31 EUR
1000 ml
3
9,68 EUR
6
9,53 EUR
12
9,37 EUR
18
9,22 EUR
24
9,14 EUR
500 ml
7,99 EUR*


(Groundprice: 15,98 EUR pro Liter)

Product No.:

45151

/ EAN:

4009398501515

1000 ml
9,99 EUR*


(Groundprice: 9,99 EUR pro Liter)

Product No.: 45101 / EAN: 4009398501010
*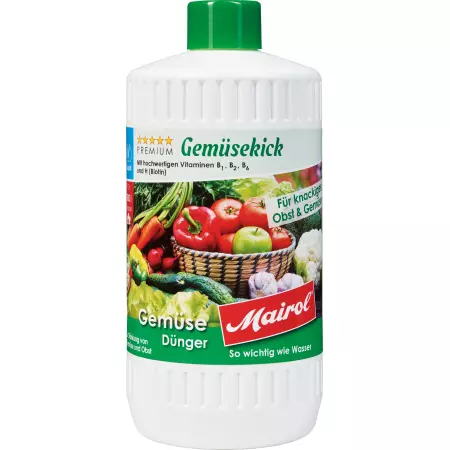 Mairol vegetable fertilizer vegetable kick
Mairol vegetable kick is specially designed as a fertilizer for fruits and vegetables. The vegetable fertilizer makes the plants grow vigorously and healthy and promotes the activity of soil organisms. Mairol vegetable fertilizer is known for a strong rooting and a delicious and juicy harvest.
The vegetable fertilizer is particularly nitrogen-rich and provides all plants with potash, phosphorus and high-quality trace elements, especially with iron and valuable vitamins.
In a natural way, the turbo-active effect ensures rapid absorption of all the important nutrients, so that the vegetable plant can exploit its full potential.
The Mairol quality guarantee for vegetable fertilizers
Mairol turbo-active effect: Selected chelated trace elements are immediately available to the plant.
With high-quality vitamins B1, B2, B6 and B7 biotin
To strengthen vegetables and fruits
Suitable for foliar application
High yield: 1 liter of vegetable fertilizer is sufficient for 500 l irrigation water
NPK fertilizer 6 + 6.3 + 7
Fertilizer recommendation and dosage for Mairol vegetable fertilizer
Fertilize vegetables and fruits twice a week from March to September.
Dosage: 2 ml of vegetable fertilizer per 1 liter of irrigation water.
Here you find all Mairol fertilizers.
Kennzeichnung gemäß Verordnung (EG) Nr. 1272/2008 [CLP/GHS]
Sicherheitshinweise

Prävention

P261 Einatmen von Staub/Rauch/Gas/Nebel/Dampf/Aerosol vermeiden.
P262 Nicht in die Augen, auf die Haut oder auf die Kleidung gelangen lassen.
---