Insect repellent pump spary and Animal care oil each 100 ml
Product No.:

26800#26510

Immediately ready for shipping


Delivery time 1 - 3 days inside Germany (

further

)

for deliveries abroad to the EU, Switzerland (CH) or Luxembourg (LU) within 3 - 5 days
for all other foreign deliveries within 7 - 14 days

Sliding-scale prices
: from 11,74 EUR to 12,84 EUR
3 pcs
per 12,84 EUR
10 pcs
per 12,08 EUR
20 pcs
per 11,70 EUR
40 pcs
per 12,49 EUR
60 pcs
per 12,30 EUR
100 pcs
per 11,74 EUR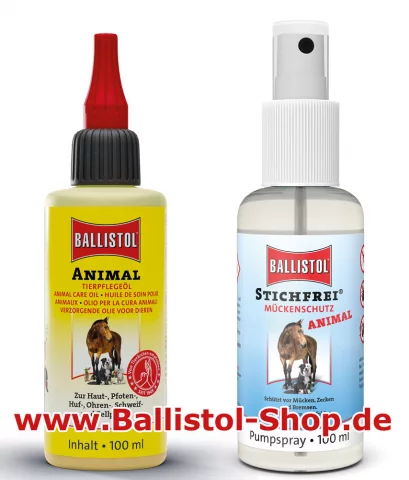 Tropicalized insect repellent pump-spray and Ballistol Animal care Oil each 100 ml
Detailed descriptions and all sizes and variations you find under Insect-Repellent resp. under Ballistol Animal Care Oil.
Short description of the insect repellent
With the tropicalized insect repellent Sichfrei (sting free) from Ballistol you are protected from gnats, ticks, mosquitoes etc. Ballistol sting free insect spray keeps all irksome insects away from your body. Stichfrei contains also an UV-filter for sun protection and cares the skin. Furthermore, the insect repellent has a pleasant odor. Sting free is effectively as tick agent also for your dog, your cat, your horse and each other pet. Ballistol sting free protects you and your pets also from irksome and sometimes also dangerous bites of ticks.

Use insect repellents safely. Before use always read the label and product information.
Short description of Ballistol Animal mild animal care oil:
Ballistol Animal Care Oil is produced of naturally agents only and in pharmaceutically quality since more than 70 years. Ballistol Animal for grooming, hide care, tail care, paws care and ear care for all pets. Ballistol Animal cares wounds and alleviates itch. Ballistol Animal cares skin, paws and ear, tail and hide. Sensitive spots are to be treated with a few drops of Ballistol Animal that are simply rubbed in. In winter preventive treatment against soreness resulting from the use of salt against icy roads and pavements is recommended. Ballistol Animal endorses the growth of hair in case of chafing.


Further Information


Here you find all products for animal care at a glance.


For your animals, there is also the special insect repellent for animals: Stichfrei Animal ensures that annoying and dangerous insects leave your animals alone. There is also Stichfrei as a tropicalized insect repellent for people and especially for children.


Horse Shampoo
The spezial shampoo for horses is dermatologically tested with "very good" and contains no dyes, fragrances or preservatives. The shampoo is available in two fragrances and in a variant for particularly sensitive horses mold and foals as horse shampoo sensitive.

For countless applications in home, farm and workshop, there is the well-tried Ballistol Universal oil.


Get to know Ballistol Universal Oil – proven since 1904.

Tropicalized insect repellent pump-spray from Ballistol and Ballistol Animal care Oil each 100 ml.
Kennzeichnung gemäß Verordnung (EG) Nr. 1272/2008 [CLP/GHS]


Signalwort: Gefahr

Gefahrenhinweise für Gesundheitsgefahren

H225 Flüssigkeit und Dampf leicht entzündbar
H412 Schädlich für Wasserorganismen, mit langfristiger Wirkung.

Sicherheitshinweise

Allgemeines

P102 Darf nicht in die Hände von Kindern gelangen.

Prävention

P241 Explosionsgeschützte elektrische Betriebsmittel/Lüftungsanlagen/Beleuchtung/. verwenden.

Reaktion

P305 + P351 + P338 BEI KONTAKT MIT DEN AUGEN: Einige Minuten lang behutsam mit Wasser spülen. Eventuell vorhandene Kontaktlinsen nach Möglichkeit entfernen. Weiter spülen.
P309 + P311 BEI Exposition oder Unwohlsein: GIFTINFORMATIONSZENTRUM oder Arzt anrufen.
P370 + P378 Bei Brand: Wasser zum Löschen verwenden

Lagerung

P404 In einem geschlossenen Behälter aufbewahren.

Entsorgung

P501 Inhalt/Behälter Recycling zuführen.
---