Wipes with Ballistol Stichfrei insect repellent 10 tissues in a box
Manufacturer:

Ballistol

Product No.:

26780

EAN:

4017777267808

Immediately ready for shipping


Delivery time 1 - 3 days inside Germany (

further

)

for deliveries abroad to the EU, Switzerland (CH) or Luxembourg (LU) within 3 - 5 days
for all other foreign deliveries within 7 - 14 days

Sliding-scale prices
: from 4,34 EUR to 4,84 EUR
3 pcs
per 4,84 EUR
20 pcs
per 4,62 EUR
40 pcs
per 4,60 EUR
60 pcs
per 4,53 EUR
100 pcs
per 4,34 EUR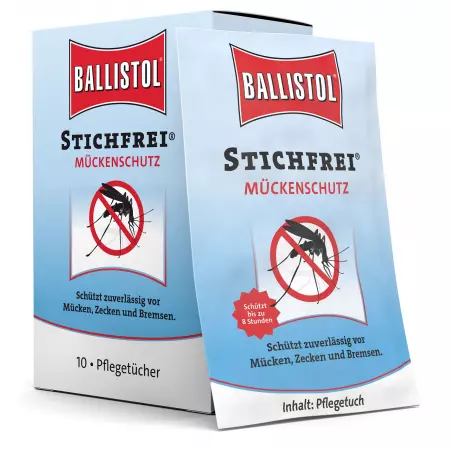 10 tissues tropicalized Insect Repellent Stichfrei for underway
The tropicalized Insect Repellent Stichfrei (sting free) from Ballistol antagonizes gnats, ticks, mosquitoes etc. For underway you get Stichfrei here as tissues
You don't want to miss your Ballistol Stichfrei in holiday, but it may not take into the aircraft or you want not use aerosol sprays or glass bottles? Here are the practical tissues with Ballistol Stichfrei. Clean and separate wrapped tissues for the protection while holiday and on the way. These new tissues we provide also for Ballistol universal oil, with Animal the proven animal care oil and for the proven Neo-Ballistol home remedy. With these tissues, you are not just for the holidays best equipped.
With the tropicalized insect repellent Sichfrei (sting free) from Ballistol you are protected from gnats, ticks, mosquitoes etc. Ballistol sting free insect spray keeps all irksome insects away from your body. Stichfrei contains also an UV-filter for sun protection (sun protection factor: 6) and cares the skin. Furthermore, the insect repellent has a pleasant odor. Sting free is effectively as tick agent also for your dog, your cat, your horse and each other pet. Ballistol sting free protects you and your pets also from irksome and sometimes also dangerous bites of ticks.
Use insect repellents safely. Before use always read the label and product information.

Stichfrei is also a component of the 54-part Home Pharmacy and also of the Travel Pharmacy Kit.

Stichfrei is also available for Kids and sensitive skin: Stichfrei Kids 30 ml or 125 ml.

Please note: At the Ballistol Shop you get also mosquito nets for single beds and double beds as well as flyscreens for windows and also in bundles with Stichfrei for affordable total prices.
Stichfrei tropicalized insect spray protects for up to eight hours against irksome insect bites such as from gnats, stinging flies, gadflies, mosquitoes, sand flies, tropical mopane flies and tsetse flies.
Just spray it on your skin and forget about gnats and gadflies. Stichfrei has been tested for its toxicological harmlessness and is successfully used on all continents: Be it in the tropical jungles of Brazil, the gnat-ridden forests of Finland, the subtropical rain forests of the Himalayas, Africa or the subtropical zone of Australia, Stichfrei convinced its users in any part of our world. Stichfrei can also be used as sun protection. In combination with its anti-insect quality it is absolutely ideal for anglers, hikers, bathers and sunbathers.
Here you find all sizes and variations of Stichfrei insect repellent.
The tropicalized Insect Repellent Stichfrei (sting free) from Ballistol antagonizes gnats, ticks, mosquitoes etc. For underway you get Stichfrei here as tissues.
---