Stingfree Animal insect repellent
Manufacturer:

Ballistol

Immediately ready for shipping


Delivery time 1 - 3 days inside Germany (

further

)

for deliveries abroad to the EU, Switzerland (CH) or Luxembourg (LU) within 3 - 5 days
for all other foreign deliveries within 7 - 14 days
Sliding-scale prices
: from 7,38 EUR to 146,11 EUR
100 ml
3
7,77 EUR
12
7,55 EUR
24
7,38 EUR
750 ml
3
35,89 EUR
6
35,36 EUR
12
34,83 EUR
18
34,30 EUR
24
34,01 EUR
5 liter canister
3
146,11 EUR
10
143,21 EUR
100 ml
7,99 EUR*


(Groundprice: 79,90 EUR pro Liter)

Product No.:

26833

/ EAN:

4017777268331

750 ml
36,95 EUR*


(Groundprice: 49,27 EUR pro Liter)

Product No.: 26788 / EAN: 4017777267884

5 liter canister
149,00 EUR*


(Groundprice: 29,80 EUR pro Liter)

Product No.: 26832 / EAN: 4017777268324
*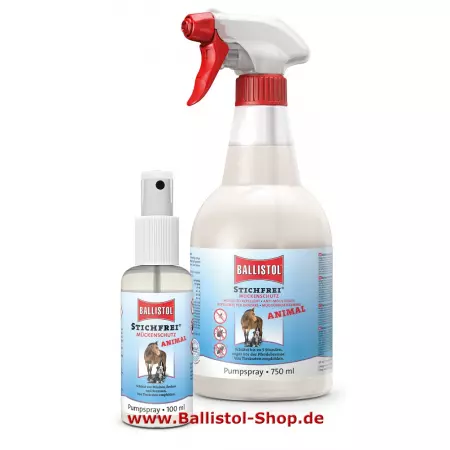 Ballistol Stingfree Animal insect repellent
The special composition conditions skin and fur. It provides dependable protection against bothersome mosquitos (a.o. blackflies), horseflies, ticks, flies and harvest mites for up to 8 hours. In addition your animal's skin will be well-groomed and protected.
Ballistol Stichfrei Animal has been dermatologically tested "very good" and is recommended by vetenarians.
Application of insect protection for pets
Spray Ballistol Stichfrei Animal all-over the fur resp. the skin of your animal from a distance of about 20cm. Repeat when effect fades. Ballistol Stichfrei Animal is also suitable for sensitive animals.
Use insect repellents safely. Before use always read the label and product information.

Here you find all sizes of Stichfrei Animal at a glance.

Here you find Stichfrei Insect protection for the whole family.


Please note: At the Ballistol Shop you get also mosquito nets for single beds and double beds as well as flyscreens for windows and also in bundles with Stichfrei for affordable total prices.


Further Information


For your animals, there is also the special insect repellent for animals: Stichfrei Animal ensures that annoying and dangerous insects leave your animals alone. There is also Stichfrei as a tropicalized insect repellent for people and especially for children.

Horse Shampoo
The spezial shampoo for horses is dermatologically tested with "very good" and contains no dyes, fragrances or preservatives. The shampoo is available in two fragrances and in a variant for particularly sensitive horses mold and foals as horse shampoo sensitive.

Neo Ballistol Home Remedy: Relax, Care and Heal.
Here you will find special products for body care.

For countless applications in home, farm and workshop, there is the well-tried Ballistol Universal oil.
Kennzeichnung gemäß Verordnung (EG) Nr. 1272/2008 [CLP/GHS]


Signalwort: Gefahr

Gefahrenhinweise für Gesundheitsgefahren

H225 Flüssigkeit und Dampf leicht entzündbar

Sicherheitshinweise

Allgemeines

P101 Ist Ärztlicher Rat erforderlich, Verpackung oder Kennzeichnungsetikett bereithalten.
P102 Darf nicht in die Hände von Kindern gelangen.

Prävention

P210 Von Hitze, heißen Oberflächen, Funken, offenen Flammen sowie anderen Zündquellenarten fernhalten. Nicht rauchen.

Reaktion

P305 + P351 + P338 BEI KONTAKT MIT DEN AUGEN: Einige Minuten lang behutsam mit Wasser spülen. Eventuell vorhandene Kontaktlinsen nach Möglichkeit entfernen. Weiter spülen.

Lagerung

P404 In einem geschlossenen Behälter aufbewahren.

Entsorgung

P501 Inhalt/Behälter Recycling zuführen.
---