Pluvonin Impregnation Fluid 5 liter + Atomizer
Immediately ready for shipping


Delivery time 1 - 3 days inside Germany (

further

)

for deliveries abroad to the EU, Switzerland (CH) or Luxembourg (LU) within 3 - 5 days
for all other foreign deliveries within 7 - 14 days
Sliding-scale prices
: from 1,18 EUR to 109,75 EUR
Oil + Hand Atomizer 250 ml with Standard-Nozzle
3
108,79 EUR
10
103,79 EUR
20
101,28 EUR
40
106,39 EUR
60
105,15 EUR
100
101,45 EUR
Oil + Hand Atomizer 500 ml with Standard-Nozzle
3
109,75 EUR
10
104,70 EUR
20
102,17 EUR
40
107,37 EUR
60
106,13 EUR
100
102,41 EUR
Extra-Nozzle Fine (red)
3
1,41 EUR
20
1,28 EUR
40
1,30 EUR
60
1,27 EUR
100
1,18 EUR
Extra-Nozzle Extra-Fine (black)
3
1,41 EUR
20
1,28 EUR
40
1,30 EUR
60
1,27 EUR
100
1,18 EUR
Oil + Hand Atomizer 250 ml with Standard-Nozzle
113,80 EUR*


Product No.:

25020#KP-VK250-PE

Oil + Hand Atomizer 500 ml with Standard-Nozzle
114,80 EUR*

Product No.: 25020#KP-VK500-PE

available soon
Accessories:
Extra-Nozzle Fine (red)
1,49 EUR*

Product No.: SOHPD4

Extra-Nozzle Extra-Fine (black)
1,49 EUR*

Product No.: SOHPD3
*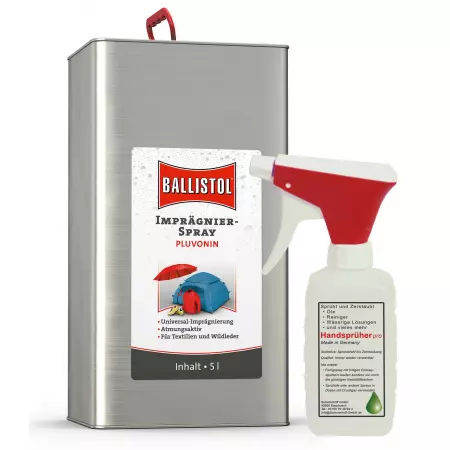 With this set you get 5 liter Impregnation Fluid and an Atomizer as a bundle
Short description of Impregnation Fluid
The Impregnation Fluid offers extreme water and dirt proofing and repellent coating for all natural and synthetic fabrics as well as on Goretex and on leather on the basis of the very latest technology. All textiles and natural leathers are cared for and waterproofed, including those subject to the toughest weather conditions. Tents, tarpaulins, sails, awnings, parasols and umbrellas are protected, just as coats, anoraks, jumpers, rain, ski and sports wear, shoes and rucksacks also are. Spillages such as coffee, tea, red wine or cola simply roll off the fabric. It surrounds every fibre with an invisible, UV and temperature stable, breathable protective coating. Dry dirt no longer sticks to the fibres; wet dirt is no longer absorbed. Ideal for hunters, anglers and anyone who is exposed to wind and weather in their work or recreation.
Available in the following sizes and bundles:
Impregnation Spray:
Impregnation fluids:
5 Liter impregnation fluid + hand atomizer
Description of the Atomizer:
Detailed informationyou will find under Hand Atomizer.
Ballistol hand atomizer for fluid oils to atomization on plane surfaces or at hardly accessible places.
The hand atomizer is a convenient and environmentally friendly sprayer. With the hand sprayer, you can atomize Ballistol or other thin oils almost as finely as with the traditional spray can. A special pump mechanic with a special jet hole makes it possible. The reservoir is 250 ml or 500 ml big enough for prolonged work and small enough for easy handling. Thereby the hand atomizer offers an ecologically and economically optimized alternative to conventional sprays.
Pluvonin is also in use on ships, boats and yachts for many purposes. Therefor the Ballistol Skipper Box contains the highly effective waterproofing spray.

Further Information


Get to know Ballistol Universal Oil – proven since 1904.

Here you will find all all Oiler and Dispenser. Here we offer environmentally friendly alternatives to spray cans with propellant gas and also precision oil pens to dose your oil drop by drop.
With this set you get 5 liter Impregnation Fluid and an Atomizer as a bundle.
Kennzeichnung gemäß Verordnung (EG) Nr. 1272/2008 [CLP/GHS]


Signalwort: Gefahr

Gefahrenhinweise für Gesundheitsgefahren

H222 Extrem entzündbares Aerosol.
H229 Behälter steht unter Druck: Kann bei Erwärmung bersten.
H315 Verursacht Hautreizungen.
H335 Kann die Atemwege reizen.
H336 Kann Schläfrigkeit und Benommenheit verursachen.
H411 Giftig für Wasserorganismen, mit langfristiger Wirkung.

Sicherheitshinweise

Allgemeines

P102 Darf nicht in die Hände von Kindern gelangen.

Prävention

P210 Von Hitze, heißen Oberflächen, Funken, offenen Flammen sowie anderen Zündquellenarten fernhalten. Nicht rauchen.
P211 Nicht gegen offene Flamme oder andere Zündquelle sprühen
P251 Nicht durchstechen oder verbrennen, auch nicht nach Gebrauch.
P261 Einatmen von Staub/Rauch/Gas/Nebel/Dampf/Aerosol vermeiden.
P271 Nur im Freien oder in gut belüfteten Räumen verwenden.
P273 Freisetzung in die Umwelt vermeiden.

Reaktion

P301 + P310 BEI VERSCHLUCKEN: Sofort GIFTINFORMATIONSZENTRUM/Arzt/... anrufen.
P331 KEIN Erbrechen herbeiführen.

Lagerung

P410 + P412 Vor Sonnenbestrahlung schützen. Nicht Temperaturen über 50 °C/122 °F aussetzen

Entsorgung

P501 Inhalt / Behälter der Entsorgung gemäß den örtlichen/nationalen/internationalen Vorschriften zuführen.
---