Grease Gun and Multi-Purpose Grease in a Kit
Product No.:

25350#12250950

Immediately ready for shipping


Delivery time 1 - 3 days inside Germany (

further

)

for deliveries abroad to the EU, Switzerland (CH) or Luxembourg (LU) within 3 - 5 days
for all other foreign deliveries within 7 - 14 days

Sliding-scale prices
: from 57,92 EUR to 61,14 EUR
3 pcs
per 61,14 EUR
10 pcs
per 58,32 EUR
20 pcs
per 56,92 EUR
40 pcs
per 60,33 EUR
60 pcs
per 59,73 EUR
100 pcs
per 57,92 EUR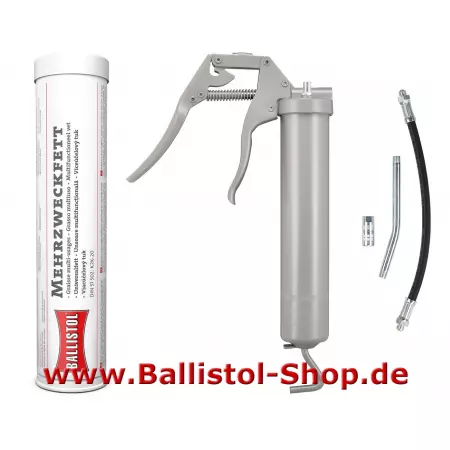 High-End One-Hand Grease Gun + Ballistol Multi-Purpose Grease cartridge
With this Kit you get Ballistol-Multipurpose Grease in a 400gr cartridge and a high-end one-hand-grease-gun for an affordable complete price.
Short description of Ballistol Multi-Purpose-Grease

Ballistol univeral fat resp. multi-purpose grease is stable in a temperature range from -30° C to +120° C and is also characterized by a very good water resistance. Ballistol fat, providing reliable long-term lubrication and good sealing properties and easy pumpability in central lubrication systems.

Here you get the Multi-Purpose-Grease in different sizes sseparately and also the full product description.
Short description for the Grease Gun
The high-quality grease gun from Pressol processed fats up to consistency 2 (NLGI class according to DIN 51818). The grease gun takes all 400 gr cartridges according to DIN 1284. These are the standard cartridges, which are available everywhere (Euro-Cartridges). The pump piston ensures a high accuracy of fit and prevents from pseudo lubrication. Even after 5000 uses the extremely robust grease gun does not show performance reductions.

Here you get the Grease Gun sseparately and also a detailed product description.

Further Information


Get to know Ballistol Universal Oil – proven since 1904.

Here you will find all all Oiler and Dispenser. Here we offer environmentally friendly alternatives to spray cans with propellant gas and also precision oil pens to dose your oil drop by drop.
High-End One-Hand Grease Gun from Pressol + Ballistol Multi-Purpose Grease 400gr cartridge.
---