White Vaseline from Scheibe
Manufacturer:

Ballistol

Product No.:

23699

EAN:

4017777236996

Content: 70 g

Immediately ready for shipping


Delivery time 1 - 3 days inside Germany (

further

)

for deliveries abroad to the EU, Switzerland (CH) or Luxembourg (LU) within 3 - 5 days
for all other foreign deliveries within 7 - 14 days
7,80 EUR
(Groundprice:

111,43 EUR per kg

)


Sliding-scale prices
: from 7,18 EUR to 7,58 EUR
3 pcs
per 7,58 EUR
6 pcs
per 7,47 EUR
12 pcs
per 7,35 EUR
18 pcs
per 7,24 EUR
24 pcs
per 7,18 EUR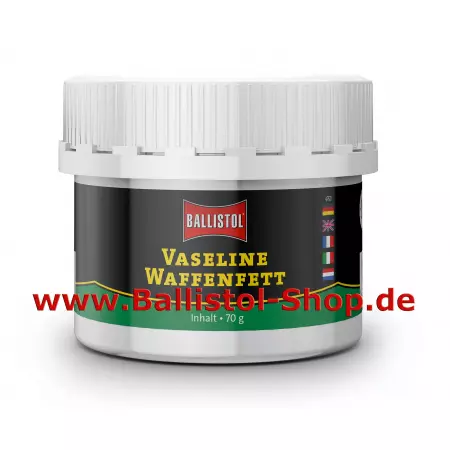 Vaseline – an universal natural product – not just for gun care
This lubricant for guns is free from resin and acid, is of finest white quality and ideally suitable for lubricating internal and external metal parts, above all of barrels. Scheibe Vaseline Gun grease lubricates and protects all metal parts as well as locks and mechanisms. Perfect to be applied with any kind of airgun and for the lubrication of compression pistons. Please use a lint-free piece of cloth or cotton bud ‐ depending on the application.
Here you will the Vaseline Story.
Vaseline – more than a lubricant.
Capacity 70g.

Further Information

Here you find all Gun oils at a glance


Here you find all chemical and manual barrel cleaner


Universal Gun care cloth for all surfaces and each chemial.
The spezial fabric of the gun care cloth is neutral against each surfaces and materials and extra absorbent.


Here you find all Products for gun care at a glance.


Get to know Ballistol Universal Oil – proven since 1904.

Oilers and Dispensers. Here we offer environmentally friendly alternatives to spray cans with propellant gas and also precision oil pens to dose your oil drop by drop.

Vaseline – an universal natural product – not just for gun care.
---