Animal Care Kit
Product No.:

SET10321

Immediately ready for shipping


Delivery time 1 - 3 days inside Germany (

further

)

for deliveries abroad to the EU, Switzerland (CH) or Luxembourg (LU) within 3 - 5 days
for all other foreign deliveries within 7 - 14 days
70,99 EUR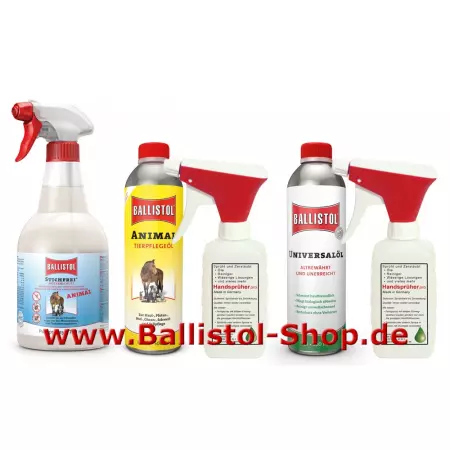 Animal care kit insect repellent + care oil + universal oil + oil-atomizers
Animal care kit by Ballistol with insect repellent, care oil, universal oil, and practical hand-oil-atomizers for an affordable package price.
Whether you have pets or farm animals, domestic animals or wild animals, the care products from Ballistol are well tried since decades, alleviate, heal and protect each animal. If you have small pets or require smaller quantities: here you will find our Pet Care kit with tick remover.
The animal care set contains:
Use insect repellents safely. Before use always read the label and product information.

Further Information


For your animals, there is also the special insect repellent for animals: Stichfrei Animal ensures that annoying and dangerous insects leave your animals alone. There is also Stichfrei as a tropicalized insect repellent for people and especially for children.

Horse Shampoo
The spezial shampoo for horses is dermatologically tested with "very good" and contains no dyes, fragrances or preservatives. The shampoo is available in two fragrances and in a variant for particularly sensitive horses mold and foals as horse shampoo sensitive.

Neo Ballistol Home Remedy: Relax, Care and Heal.
Here you will find special products for body care.

For countless applications in home, farm and workshop, there is the well-tried Ballistol Universal oil.
Animal care kit by Ballistol with insect repellent, care oil, universal oil, and practical hand-oil-atomizer for an affordable package price.
Kennzeichnung gemäß Verordnung (EG) Nr. 1272/2008 [CLP/GHS]


Signalwort: Gefahr

Gefahrenhinweise für Gesundheitsgefahren

H225 Flüssigkeit und Dampf leicht entzündbar

Sicherheitshinweise

Allgemeines

P101 Ist Ärztlicher Rat erforderlich, Verpackung oder Kennzeichnungsetikett bereithalten.
P102 Darf nicht in die Hände von Kindern gelangen.

Prävention

P210 Von Hitze, heißen Oberflächen, Funken, offenen Flammen sowie anderen Zündquellenarten fernhalten. Nicht rauchen.

Reaktion

P305 + P351 + P338 BEI KONTAKT MIT DEN AUGEN: Einige Minuten lang behutsam mit Wasser spülen. Eventuell vorhandene Kontaktlinsen nach Möglichkeit entfernen. Weiter spülen.

Lagerung

P404 In einem geschlossenen Behälter aufbewahren.

Entsorgung

P501 Inhalt/Behälter Recycling zuführen.
---