High End Oil Pen
Product No.:

SOPOS1

Immediately ready for shipping


Delivery time 1 - 3 days inside Germany (

further

)

for deliveries abroad to the EU, Switzerland (CH) or Luxembourg (LU) within 3 - 5 days
for all other foreign deliveries within 7 - 14 days

Sliding-scale prices
: from 16,04 EUR to 18,83 EUR
3 pcs
per 18,83 EUR
20 pcs
per 17,16 EUR
40 pcs
per 17,60 EUR
60 pcs
per 17,21 EUR
100 pcs
per 16,04 EUR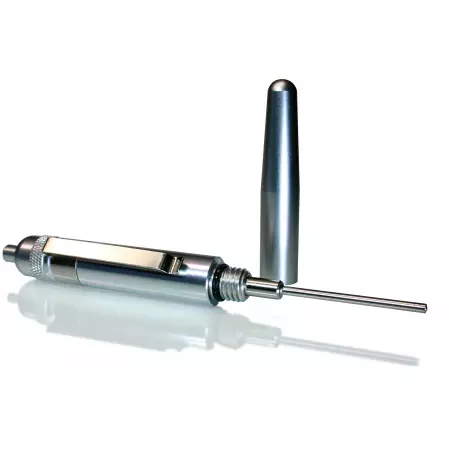 High-end precision oil pen
High-end precision oil pen of solid aluminum for exact dosing small quantities of oil and many other liquid media.
This precision-oil pen is made of solid aluminum and dispense small quantities of oil finely dosed dropwise. Even with very low viscosity oils and after a very long wait time, no drops may leak. This oil filler in the highest quality of workmanship is an uncompromising quality product Made in Germany for the highest demands. The oil filler can reach smallest and by the 50 mm long lance also deep hidden places effortlessly. The pen lubricates extremely precise and leaves the oil only exactly where you want it. All surrounding parts and areas remain, unlike other oilers or spray free of oil. The oil pen is equipped with a chic and handy clip that allows you to wear the oiler comfortable and clean e.g. in a shirt pocket or in work coats.

Another application can be found in cosmetics. The precision oil pen is perfectly suited as a nail oil pen. You can fill up this nail oil pen repeatedly. We recommend you our world-class Nail Oil Neo Ballistol. Calculate yourself how much you will save if you buy no more disposable nail oil pens. Here you get the Nail Oil Pen Kit with Neo Ballistol nail care oil.
The oil pen is an excellent gift for any precision mechanic, watchmakers, janitors, engineers, craftsman and women for who care fingernails, toenails and cuticles with nail oil.
The operation is very simple. You can fill in about 5 ml of oil in the aluminum tank and then release the oil drop by drop by pressing the button. This oil filler Made in Germany includes only high-quality materials and therefore it is particularly suitable for Ballistol Oil of which is suitable by its properties for almost all purposes. Ballistol oil is available in sizes from 50 ml alongside other universal oils.
Further Oil-Pens of our assortment
Ballistol-Shop: Oil Pens :
| Oil Pens | Aluminum Oil Pen | High-End Oil Pen | Precision Oiler | Thrifty Oiler | Fine Point Oiler | Universal Care-Pen |
| --- | --- | --- | --- | --- | --- | --- |
| | | | | | | |
| Material Casing | Aluminum | Aluminum | Plastic | Plastic | Plastic | Plastic |
| also for alkaline Oils | temporary* | yes | partly** | partly** | yes | yes |
| Transparent Reservoir | no | no | yes | yes | no | no |
| Clip | yes | yes | yes | yes | no | no |
| Reservoir Capacity | ca. 5 ml | ca. 5 ml | ca. 5 ml | ca. 5 ml | ca. 15 ml | ca. 30 ml |
| Closing Cap | yes | yes | yes | yes | yes | yes |
| Activation | Press Button | Press Button | Press Button | Pinpoint | Hard-Felt-Pin | Hard-Felt-Head |
| Weight | ca. 35 gr | ca. 40 gr | ca. 20 gr | ca. 21 gr | ca. 23 gr | ca. 49 gr |
| Link to Product | Aluminum Oil Pen | High-End Oil Pen | Precision Oiler | Thrifty Oiler | Fine Point Oiler | Universal Care-Pen |
* The invisible mechanics of this oil pen contains materials which can be attacked by alkaline oils after some time. Incidentally, this is the case for all oil pens in this price range, even if you find other information in the descriptions. Alkaline oils such as Ballistol have special cleaning properties and are even able to solve certain alloys.
** Even the transparent plastic window, do not work permanently with alkaline oils and possibly get mat.
All oilers of this type work without pumping alone using gravity. Therefore, depending on the fill level and tank size, after about 10 operations, such lubricators are briefly "vented" by a quarter turn of the cover to compensate the negative pressure created by the leaked oil. You can notice that when the oil drop leakes more slowly. This is a signal that the closure is absolutely tight. For this reason, the tank should never be completely filled. Only if some air remains in the vessel, a drop of oil can flow.
Our recommendation:
If you want to fill the oiler with alkaline oil such Ballistol, choose the high-end oil pen. The of this pen mechanism includes only high-quality and resistant materials and can also store alkaline oils permanently without any problems.
If you use a neutral oil such as Gunex, Ustanol and all other oils in our assortment, you can use any oil pen.
If you want to see the filling level of the tank, you may also select an oiler with a transparent tank.
Here you find all Kits with this Oil Pen at a glance

Further Information


Get to know Ballistol Universal Oil – proven since 1904.

Here you will find all all Oiler and Dispenser. Here we offer environmentally friendly alternatives to spray cans with propellant gas and also precision oil pens to dose your oil drop by drop.
High End Oil Pen of solid aluminum for exact dosing of smallest quantities of oil.

---