Ballistol wipes tissues 10 pcs in a box
Manufacturer:

Ballistol

Product No.:

21950

EAN:

4017777219500

Immediately ready for shipping


Delivery time 1 - 3 days inside Germany (

further

)

for deliveries abroad to the EU, Switzerland (CH) or Luxembourg (LU) within 3 - 5 days
for all other foreign deliveries within 7 - 14 days

Sliding-scale prices
: from 4,34 EUR to 4,84 EUR
3 pcs
per 4,84 EUR
20 pcs
per 4,62 EUR
40 pcs
per 4,60 EUR
60 pcs
per 4,53 EUR
100 pcs
per 4,34 EUR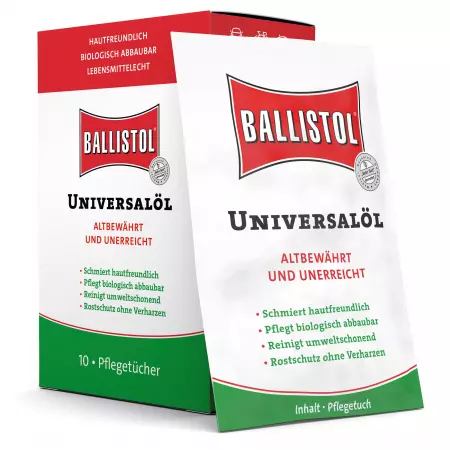 Ballistol wipes / tissues for home and on the way
You don't want to miss your Ballistol in holiday, but it may not take onto the aircraft or you want not use aerosol sprays or glass bottles? Here are the practical tissues with Ballistol universal oil. Clean and separate wrapped tissues for the care of shoes, for hunting or for hand care and of course for all other purposes for which you always used Ballistol. These new care tissues we provide also for Ballistol Stichfrei the tropicalized insect repellent, with Animal the proven animal care oil and for the proven Neo-Ballistol home remedy. With these care tissues, you are not just for the holidays best equipped.
Ballistol Oil is for maintaining of metal, wood, leather, rubber, synthetic material, skin, animals' coat and much more. Ballistol Oil is ideally suited for handicraft, industry, agriculture, household, gardening, vehicles, fishing, hunting and shooting sports.
Ballistol and Metal
Ballistol is widely used in the precision gauge and tool industry and in the production of scales and other precision instruments. Ballistol provides a protective alkaline film on the surface of metals, neutralizes hand sweat and other acid corrosive residues so that the surface is protected of corrosion. Due to its low surface tension, it is capable of creeping into the tiniest cracks and fissures of metal surfaces. It cleans and makes silver and brass shiny. Brilliant for the upkeep of tools and instruments in the field of precision mechanics.
Here you find more products for metal care.
Ballistol and Leather
Ballistol effectively protects leather against getting hard and dry, against water, insects and fungi. Residues of tannic acid in leather will be neutralized. Dry leather softens and gets elastic again with a dull shine. Bright leather can get darker. The typically smell of Ballistol will evaporate quickly. There will be no greasy film on the leather.
Here you find more products for leather care.
Ballistol and Wood
Ballistol protects, preserves and rejuvenates all natural wooden surfaces. It enhances the woodgraining and protects against humidity and insect damage. It's ideal for antique furniture!
Here you find more products for wood care.
Ballistol and Plastics
Ballistol maintains and protects oil-resistant synthetic material, preserves its elasticity and protects from drying out and getting obdurate. It prevents adhesive rubber of car doors in winter, it renews the shine of synthetic surfaces without producing a greasy film.
Here you find more products for plastic care.
Ballistol for Skin and Coat
Ballistol is calm to the skin and completely harmless if inadvertently taken. It's ideally suited for the care of animals' coats, for cleaning their outer ears and for horses' manes, tail hairs and hooves.
Here you find our products for Body Care. And here are the Ballistol products for animal care.
Ballistol and Guns
Ballistol protects from corrosion, lubricates, cleans and acts against residues of powder, lead, copper and tombac. It creeps into finest fissures and dissolves old soilings and resins of unsuited oils. It neutralizes combustion residues. It also cleans, maintains and preserves the wooden stock and leather gun slings.
Here you find the whole range of gun care.
Ballistol and Environment
Ballistol is made of natural substances. It is safe for people and animals. Neither its use nor its natural decomposition will pollute the environment. The white oil used for the production is absolutely pure from the medical point of view. Ballistol contains a harmless combination of antioxidants and medical oils so that it is not susceptible to aging and does not resinify for years. Read more about this aspect in the Ballistolstory.
Ballistol for a thousand and more uses
Due to its combination of ingredients Ballistol cannot resinify. Because of its pharmaceutically clean substances it can also be used in the process of food production. For much more information please order the Ballistol-Story. Just phone or write us and we will send it to you. Ballistol is available in a glass bottle of 50 ml, in a can with 500 ml, in bigger sizes up to 200 liters and as spray can in 50 ml, 100 ml and 200 ml. Our Pump Sprayer contains 250 ml and is the most economic alternative to aerosols. Our Oil Pencil is for punctual and very exact use of Ballistol.
Ballistol is very popular with skippers, because it can be used on board with little space for countless purposes. What Skipper Robert Reichmann e.g. recommends and what Ballistol can do on board, you can read in the description of the discounted Ballistol Skipper Box.

Further Information


Get to know Ballistol Universal Oil – proven since 1904.

Here you will find all all Oiler and Dispenser. Here we offer environmentally friendly alternatives to spray cans with propellant gas and also precision oil pens to dose your oil drop by drop.
Ballistol wipes / tissues for home and on the way.
---