Ballistol Oil 25 ml Spray
Manufacturer:

Ballistol

Product No.:

21820

EAN:

4017777218206

Content: 25 ml

Immediately ready for shipping


Delivery time 1 - 3 days inside Germany (

further

)

for deliveries abroad to the EU, Switzerland (CH) or Luxembourg (LU) within 3 - 5 days
for all other foreign deliveries within 7 - 14 days
1,89 EUR
(Groundprice:

75,60 EUR per Liter

)


Sliding-scale prices
: from 1,73 EUR to 1,83 EUR
3 pcs
per 1,83 EUR
12 pcs
per 1,77 EUR
24 pcs
per 1,73 EUR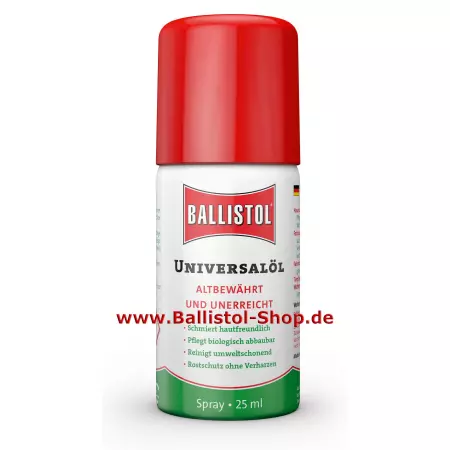 Ballistol Oil 25 ml spray
Ballistol Spray in size of 25 ml is designed as a giveaway / product sample.
Here you will find the complete description of Ballistol Spray.
Kennzeichnung gemäß Verordnung (EG) Nr. 1272/2008 [CLP/GHS]


Signalwort: Gefahr

Gefahrenhinweise für Gesundheitsgefahren

H222 Extrem entzündbares Aerosol.
H229 Behälter steht unter Druck: Kann bei Erwärmung bersten.

Sicherheitshinweise

Allgemeines

P102 Darf nicht in die Hände von Kindern gelangen.

Prävention

P210 Von Hitze, heißen Oberflächen, Funken, offenen Flammen sowie anderen Zündquellenarten fernhalten. Nicht rauchen.
P211 Nicht gegen offene Flamme oder andere Zündquelle sprühen
P251 Nicht durchstechen oder verbrennen, auch nicht nach Gebrauch.

Reaktion

P370 + P378 Bei Brand: Wasser zum Löschen verwenden

Lagerung

P410 + P412 Vor Sonnenbestrahlung schützen. Nicht Temperaturen über 50 °C/122 °F aussetzen

Entsorgung

P501 Inhalt/Behälter Recycling zuführen.
---