Ballistol Oil 25 ml Spray
Manufacturer:

Ballistol

Immediately ready for shipping


Delivery time 1 - 3 days inside Germany (

further

)

for deliveries abroad to the EU, Switzerland (CH) or Luxembourg (LU) within 3 - 5 days
for all other foreign deliveries within 7 - 14 days
Sliding-scale prices
: from 1,72 EUR to 1,83 EUR
1 piece
3
1,83 EUR
12
1,76 EUR
24
1,72 EUR
1 piece
1,89 EUR*


(Groundprice: 75,60 EUR pro Liter)

Product No.:

21820

/ EAN:

4017777218206

20 piece
36,60 EUR*


(Groundprice: 73,20 EUR pro Liter)

Product No.: 21820x20
*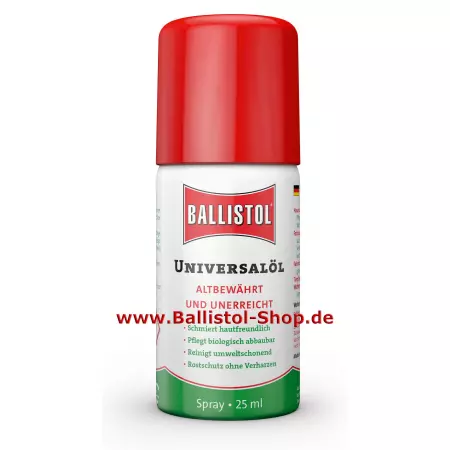 Ballistol Oil 25 ml spray
Ballistol Spray in size of 25 ml is designed as a giveaway / product sample.
Here you will find the complete description of Ballistol Spray.
Further Informationen about Ballistol
Apart from spray cans Ballistol is available as liquid or as the popular Ballistol wipes and in small point lubricator as well as in large the Ballistol Care Pen. Especially popular are our Ballistol sets with various oilers and atomizers for an affordable all-inclusive price and as an alternative to spray cans.
Here you find all sorts of Ballistol Universal Oil at a glance
Sprays:

Fluids:

Further variants

Further Information
The history of Ballistol oil is an exciting story that begins in 1874 and resulted in a competition of the Imperial Army to the still successful formula of Ballistol Oil. We also show you in this short story the brand development in the past 100 years.

In the Ballistol-Story you will find a table of the application areas of Ballistol - differentiated by materials. In addition, you will find details on durability, ecological aspects, toxicological test results and much more.
Ecological aspects to Ballistol oil
Learn more about the ingredients and the environmental performance of Ballistol.


Oiler and dispenser for economical and targeted application of Ballistol and as an alternative to spray cans.
Ballistol Oil 25 ml spray is one of the few alkaline oils. It does not resinify even in decades and is complete biodegradable, skin-friendly and food-safe. Ballistol Oil is also creep oil that penetrates the finest fissures and it cares all materials, lubricates, protects from rust and is a potent agent for disinfection.
Kennzeichnung gemäß Verordnung (EG) Nr. 1272/2008 [CLP/GHS]


Signalwort: Gefahr

Gefahrenhinweise für Gesundheitsgefahren

H222 Extrem entzündbares Aerosol.
H229 Behälter steht unter Druck: Kann bei Erwärmung bersten.

Sicherheitshinweise

Allgemeines

P102 Darf nicht in die Hände von Kindern gelangen.

Prävention

P210 Von Hitze, heißen Oberflächen, Funken, offenen Flammen sowie anderen Zündquellenarten fernhalten. Nicht rauchen.
P211 Nicht gegen offene Flamme oder andere Zündquelle sprühen
P251 Nicht durchstechen oder verbrennen, auch nicht nach Gebrauch.

Reaktion

P370 + P378 Bei Brand: Wasser zum Löschen verwenden

Lagerung

P410 + P412 Vor Sonnenbestrahlung schützen. Nicht Temperaturen über 50 °C/122 °F aussetzen

Entsorgung

P501 Inhalt/Behälter Recycling zuführen.
---