Ballistol microfibre cloth for plastic surfaces
Manufacturer:

Ballistol

Product No.:

23733

EAN:

4017777237337

Immediately ready for shipping


Delivery time 1 - 3 days inside Germany (

further

)

for deliveries abroad to the EU, Switzerland (CH) or Luxembourg (LU) within 3 - 5 days
for all other foreign deliveries within 7 - 14 days

Sliding-scale prices
: from 8,26 EUR to 8,68 EUR
3 pcs
per 8,68 EUR
10 pcs
per 8,40 EUR
20 pcs
per 8,26 EUR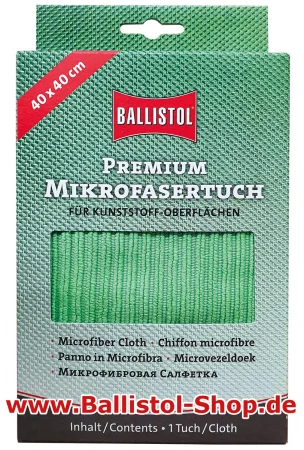 Ballistol microfibre cloth for plastic surfaces
The Ballistol Microfiber Cloth Green is specially optimized for plastic surfaces. With this microfiber cloth, you can clean not only plastics but also all other smooth surfaces quickly and streak-free. A special weave structure provides a good grip.
Other properties of the Premium Microfiber Cloth
For surface cleaning, even with strong structuring and unevenness.
Ideal for all plastic surfaces, e.g. artificial leather, vehicle interiors, gun stocks, window frames, shoes, interiors as well as caravan walls, or mobile homes.
The Ballistol Microfiber Cloth Green is washable at 60 °C and consists of 20 percent polyamide and 80 percent polyester.
Specifications of the Ballistol microfiber cloth for plastic
Size: 40 x 40 cm
Weight: 375 g/m2
Material: 80 % polyester and 20 % polyamide
Cleaning: 60 °C in the washing machine
Silicone free
Plastic free packaging
---