Cleaning Felts for shotguns
Manufacturer:

Ballistol

Immediately ready for shipping


Delivery time 1 - 3 days inside Germany (

further

)

for deliveries abroad to the EU, Switzerland (CH) or Luxembourg (LU) within 3 - 5 days
for all other foreign deliveries within 7 - 14 days
20 Gauge - 30 pieces
8,99 EUR*


(Groundprice: 0,30 EUR pro piece)

Product No.:

23249

/ EAN:

4017777232493

20 Gauge - 90 pieces
19,95 EUR*


(Groundprice: 0,22 EUR pro piece)

Product No.: 23251 / EAN: 4017777232516

16 Gauge - 30 pieces
9,50 EUR*


(Groundprice: 0,32 EUR pro piece)

Product No.: 23245 / EAN: 4017777232455

16 Gauge - 90 pieces
20,45 EUR*


(Groundprice: 0,23 EUR pro piece)

Product No.: 23246 / EAN: 4017777232462

12 Gauge - 30 pieces
10,45 EUR*


(Groundprice: 0,35 EUR pro piece)

Product No.: 23241 / EAN: 4017777232417

12 Gauge - 90 pieces
22,95 EUR*


(Groundprice: 0,26 EUR pro piece)

Product No.: 23242 / EAN: 4017777232424
*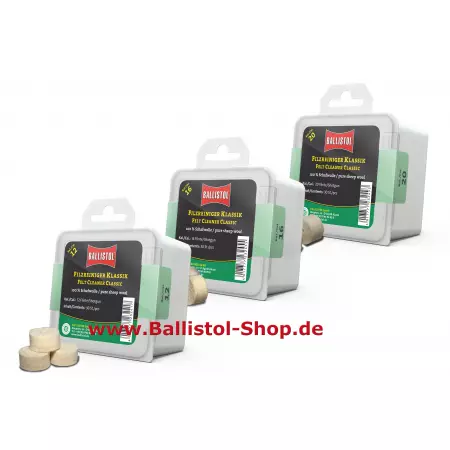 Felt cleaner for shotguns
Gun felt cleaners for normal soiling are made of pure wool felt. Felt cleaner for shotgun barrels allow fast and effective cleaning of normally contaminated shotgun barrels.
The shotgun felt cleaners are produced exactly for each shotgun caliber. As soon as the felts are placed on the felt holder, they expand slightly, giving them a small plus tolerance to the actual shotgun caliber. The strong natural felts are somewhat elastic, so that they press through the excess of caliber perfectly to the ungrooved barrel of the shotgun. The natural sheep wool is very absorbent. Gun oil and barrel cleaner are perfectly soaked up by the shotgun cleaning felts and apply evenly by the movement through the shotgun barrel.
The cleaning felts can be used with the felt holder on any Ballistol cleaning rod and on most other cleaning rods. With the Ballistol cleaning rod adapters, the cleaning felts can also be used on the cleaning rods of all other manufacturers.
Here you will find the special felt cleaner for shotguns for particularly stubborn dirt.
---