Weapon Parts Cleaner
Manufacturer:

Ballistol

Product No.:

23752

EAN:

4017777237528

Content: 250 ml

Immediately ready for shipping


Delivery time 1 - 3 days inside Germany (

further

)

for deliveries abroad to the EU, Switzerland (CH) or Luxembourg (LU) within 3 - 5 days
for all other foreign deliveries within 7 - 14 days
7,95 EUR
(Groundprice:

31,80 EUR per Liter

)


Sliding-scale prices
: from 7,33 EUR to 7,73 EUR
3 pcs
per 7,73 EUR
6 pcs
per 7,61 EUR
12 pcs
per 7,50 EUR
18 pcs
per 7,39 EUR
24 pcs
per 7,33 EUR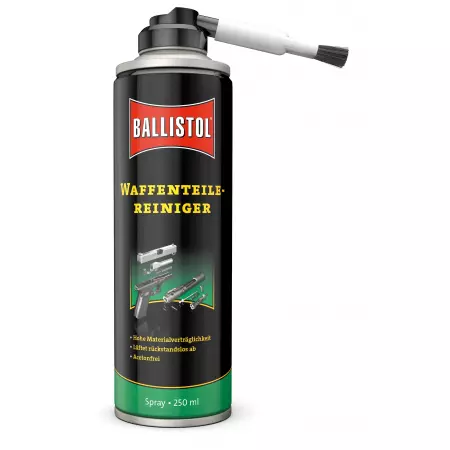 Weapons parts cleaner
The Weapon Parts Cleaner has been designed with over 110 years of experience in gun maintenance and weapon cleaning. It cleans all surfaces thoroughly, quickly and even so gentle for materials. Last but not least, the sturdy nylon brushes of the plug-in brush ensure this. So even stubborn dirt on surfaces and guides can be removed gently. Another highlight is the high pressure with which the cleaner is driven out of the container. Therefore the Weapons Parts Cleaner unfold its full effectiveness even in hard to reach places and simply rinse off dirt. In addition it comes along with Citrus Power and a very pleasant scent. Like all degreasers from Ballistol, the weapon parts cleaner also flies away without any residue.
All features of the weapon parts cleaner at a glance

High material compatibility
Cleans hard to reach places with high pressure
Brush with sturdy nylon bristles to remove stubborn dirt
Suitable for all weapon parts
Pleasant smell
Ventilates without residue
acetone free
Content 250 ml spray
Kennzeichnung gemäß Verordnung (EG) Nr. 1272/2008 [CLP/GHS]


Signalwort: Gefahr

Gefahrenhinweise für Gesundheitsgefahren

H222 Extrem entzündbares Aerosol.
H229 Behälter steht unter Druck: Kann bei Erwärmung bersten.
H315 Verursacht Hautreizungen.
H336 Kann Schläfrigkeit und Benommenheit verursachen.
H412 Schädlich für Wasserorganismen, mit langfristiger Wirkung.

Sicherheitshinweise

Allgemeines

P102 Darf nicht in die Hände von Kindern gelangen.

Prävention

P210 Von Hitze, heißen Oberflächen, Funken, offenen Flammen sowie anderen Zündquellenarten fernhalten. Nicht rauchen.
P211 Nicht gegen offene Flamme oder andere Zündquelle sprühen
P251 Nicht durchstechen oder verbrennen, auch nicht nach Gebrauch.

Lagerung

P410 + P412 Vor Sonnenbestrahlung schützen. Nicht Temperaturen über 50 °C/122 °F aussetzen

Entsorgung

P501 Inhalt/Behälter Recycling zuführen.
---