Microfiber Patch for gun cleaning
Manufacturer:

Ballistol

Immediately ready for shipping


Delivery time 1 - 3 days inside Germany (

further

)

for deliveries abroad to the EU, Switzerland (CH) or Luxembourg (LU) within 3 - 5 days
for all other foreign deliveries within 7 - 14 days
Sliding-scale prices
: from 25,30 EUR to 77,97 EUR
Microfiber Patch Ø 21 mm up to caliber 7 mm - 150 pieces
3
26,70 EUR
12
25,91 EUR
24
25,30 EUR
Microfiber Patch Ø 21 mm up to caliber 7 mm - 500 pieces
3
77,97 EUR
6
76,96 EUR
18
74,94 EUR
Microfiber Patch Ø 35 mm from caliber 7,5 mm up - 150 pieces
3
26,70 EUR
12
25,91 EUR
24
25,30 EUR
Microfiber Patch Ø 35 mm from caliber 7,5 mm up - 500 pieces
3
77,97 EUR
6
76,96 EUR
18
74,94 EUR
Microfiber Patch Ø 21 mm up to caliber 7 mm - 150 pieces
27,50 EUR*


(Groundprice: 0,18 EUR pro piece)

Product No.:

23289

/ EAN:

4017777232899

Microfiber Patch Ø 21 mm up to caliber 7 mm - 500 pieces
79,99 EUR*


(Groundprice: 0,16 EUR pro piece)

Product No.: 23292 / EAN: 4017777232929

Microfiber Patch Ø 35 mm from caliber 7,5 mm up - 150 pieces
27,50 EUR*


(Groundprice: 0,18 EUR pro piece)

Product No.: 23291 / EAN: 4017777232912

Microfiber Patch Ø 35 mm from caliber 7,5 mm up - 500 pieces
79,99 EUR*


(Groundprice: 0,13 EUR pro piece)

Product No.: 23293 / EAN: 4017777232936
*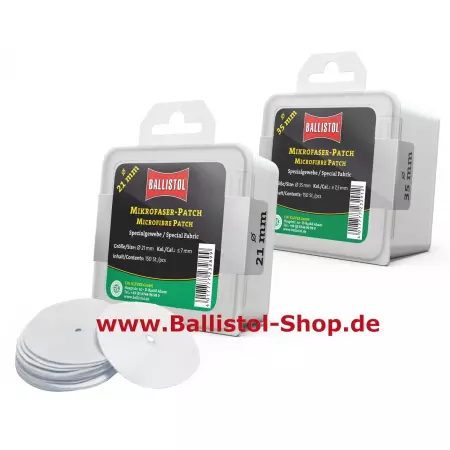 Microfiber patches for weapon cleaning
The microfibre patches were specially developed for barrel cleaning. Unlike highly absorbent material, the microfibers emit moisture almost completely during application. The cleaning effect, as with all microfibre cloths, is clearly superior to the cleaning effect of natural fibers.
The microfibre patches are available in two sizes covering all calibers
Microfibre patches diameter 21 mm to caliber 7 mm
Microfibre patches diameter 35 mm from caliber 7.5 mm
Here you will find the matching patch holder for the microfibre patches.
---