Sucolin Gun Oakum of silk white Weapon Tow
Manufacturer:

Ballistol

Immediately ready for shipping


Delivery time 1 - 3 days inside Germany (

further

)

for deliveries abroad to the EU, Switzerland (CH) or Luxembourg (LU) within 3 - 5 days
for all other foreign deliveries within 7 - 14 days
Sliding-scale prices
: from 5,48 EUR to 5,73 EUR
75g
3
5,73 EUR
10
5,56 EUR
20
5,48 EUR
75g
5,90 EUR*


(Groundprice: 78,67 EUR pro kg)

Product No.:

23720

/ EAN:

4017777237207
*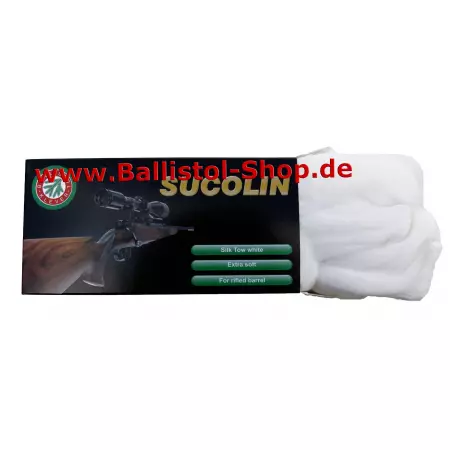 Sucolin Gun Oakum of silk white Weapon Tow
With Sucol and Sucolin you have just the right tow at hand for any kind of gun barrel, any calibre and any surface. Due to its enormous absorptive strength, dirt will be taken up by the tow and thus removed from the barrel in an ideal gentle way. If a particularly thorough cleaning should be necessary, we'd recommend Robla Solo MIL or Robla-Schwarzpulver-Solvent (Black¬powder Solvent). Ballistol or Gunex, however, is ideally used and suited for general cleaning processes.
The long fibres of Sucol and Sucolin make it easy to wind them round a cleaning rod. It goes without saying that it is equally simple to adapt the thickness to the diametre of the barrel.
The tow is of course free from any dust or fluff, which makes it perfect for cleaning and polishing.
For barrels of shotguns we recommend Sucol (gun-cleaning tow, flaxen) and for sub calibre and spherical barrels Sucolin (silk tow, white).
Weapon Tow is available in the following versions:
Sucolin Gun Oakum of silk white

Further Information

Here you find all Gun oils at a glance


Here you find all chemical and manual barrel cleaner


Universal Gun care cloth for all surfaces and each chemial.
The spezial fabric of the gun care cloth is neutral against each surfaces and materials and extra absorbent.


Here you find all Products for gun care at a glance.


Get to know Ballistol Universal Oil – proven since 1904.

Oilers and Dispensers. Here we offer environmentally friendly alternatives to spray cans with propellant gas and also precision oil pens to dose your oil drop by drop.

Gun Oakum of silk white Sucolin Weapon Tow.
---