Quick Cleaning Felts for Airgun
Manufacturer:

Ballistol

Immediately ready for shipping


Delivery time 1 - 3 days inside Germany (

further

)

for deliveries abroad to the EU, Switzerland (CH) or Luxembourg (LU) within 3 - 5 days
for all other foreign deliveries within 7 - 14 days
Sliding-scale prices
: from 3,68 EUR to 9,71 EUR
.17 / 4 mm / 4,5 mm - 60 pieces
3
3,88 EUR
12
3,76 EUR
24
3,68 EUR
.17 / 4 mm / 4,5 mm - 300 pieces
3
9,71 EUR
6
9,57 EUR
12
9,44 EUR
18
9,30 EUR
24
9,22 EUR
.22 / 5,5mm / 5,56mm - 60 pieces
3
4,27 EUR
12
4,14 EUR
24
4,04 EUR
.25 / 6,35mm - 60 pieces
3
4,85 EUR
12
4,70 EUR
24
4,59 EUR
.17 / 4 mm / 4,5 mm - 60 pieces
3,99 EUR*


(Groundprice: 0,07 EUR pro piece)

Product No.:

23184

/ EAN:

4017777231847

.17 / 4 mm / 4,5 mm - 300 pieces
9,99 EUR*


(Groundprice: 0,03 EUR pro piece)

Product No.: 23185 / EAN: 4017777231854

.22 / 5,5mm / 5,56mm - 60 pieces
4,39 EUR*


(Groundprice: 0,07 EUR pro piece)

Product No.: 23186 / EAN: 4017777231861

.25 / 6,35mm - 60 pieces
4,99 EUR*


(Groundprice: 0,08 EUR pro piece)

Product No.: 23187 / EAN: 4017777231878
*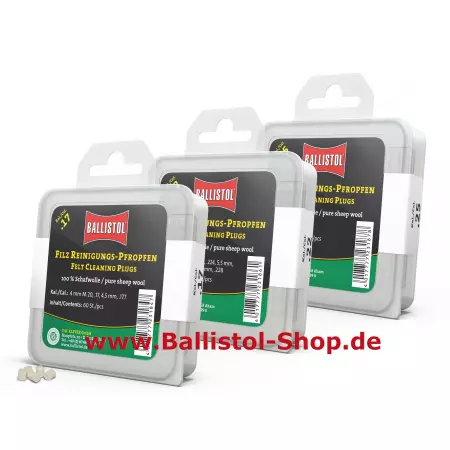 Felt cleaning plugs for air guns and small caliber
The felt-cleaning plugs of caliber 4.5 to 6.35 mm are simply soaked with gun oil or barrel cleaner and then shot like a projectile through the barrel. The easiest way to clean and care for gun barrels.
Also the felt cleaning plugs are made of 100 percent sheep wool in Germany. The cleaning plugs are optimized for each caliber with a small plus tolerance made. The solid and absorbent felt plugs are slightly elastic and press ideal to the gun barrel. All residues are transported out during the shot. Another shot with a cleaning plug, which you previously impregnated with gun oil, completes the fast gun care.
Here you will find felt cleaner for use with a cleaning rod.
---