Pipette clear glass for apothecary bottle
Immediately ready for shipping


Delivery time 1 - 3 days inside Germany (

further

)

for deliveries abroad to the EU, Switzerland (CH) or Luxembourg (LU) within 3 - 5 days
for all other foreign deliveries within 7 - 14 days
1 piece
0,75 EUR*


(Groundprice: 0,75 EUR pro piece)

Product No.:

KGP50GKK-WDK-WS

10 piece
7,10 EUR*


(Groundprice: 0,71 EUR pro piece)

Product No.: KGP50GKK-WDK-WSx10

50 piece
33,75 EUR*


(Groundprice: 0,68 EUR pro piece)

Product No.: KGP50GKK-WDK-WSx50

100 piece
63,75 EUR*


(Groundprice: 0,64 EUR pro piece)

Product No.: KGP50GKK-WDK-WSx100

200 piece
120,00 EUR*


(Groundprice: 0,60 EUR pro piece)

Product No.: KGP50GKK-WDK-WSx200

500 piece
281,25 EUR*


(Groundprice: 0,56 EUR pro piece)

Product No.: KGP50GKK-WDK-WSx500
*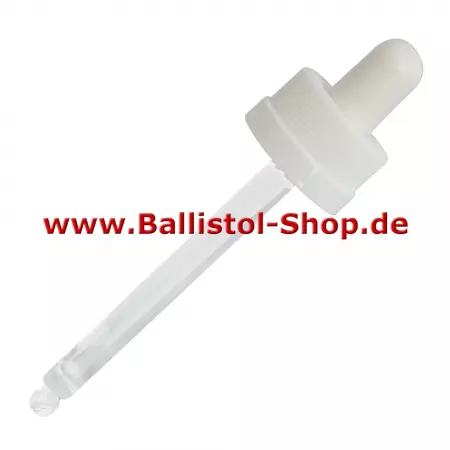 Pipette clear glass for pipette bottle
The clear glass pipette has a cranked ball tip. This is the best form for pipette tips for almost all applications. Since the pipette is always held slightly obliquely in the hand, the drop can drop straight down through the angled ball tip.
The white cap is equipped with a child safety device and a white suction rubber.
The pipette fits perfectly into our Apothecary bottle and is also completely available as a ready-made pipette bottle.
Technical data of the dropper for pharmacy bottle
Length: 107 mm
Weight: 7 g
Screw cap with child safety lock
---