Industrial oiler of zinc die cast with double-acting brass pump
Product No.:

03902

Immediately ready for shipping


Delivery time 1 - 3 days inside Germany (

further

)

for deliveries abroad to the EU, Switzerland (CH) or Luxembourg (LU) within 3 - 5 days
for all other foreign deliveries within 7 - 14 days
34,95 EUR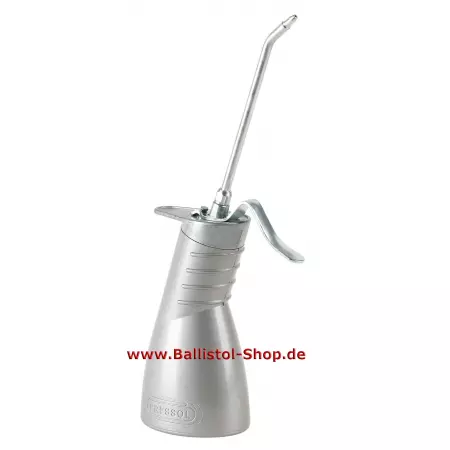 Industrial oiler of zinc die cast with double-acting brass pump.
This high-end industrial oiler of Pressol, produced in Germany contains a double acting brass pump and a ball bearing mounted, gravity controlled suction tub. Therefore it is possible to empty the container almost complete. All of the valves seats of the oiler are accomplished as ball valves. The pumping station also enables a finely dosed and drop by drop output of the medium. The cabinet of the oiler is impact-proof and very robust. The ergonomic design allows easy working in many positions. The oiler is ideal for working with Gunex universal oil, Ustanol penetrating oil or Usta and many other oils.
What is the difference between single acting and double acting pumps?
At double acting pumps, the oiler dispense with each lifting a similar large amount of oil. Oilers with single acting pumps dispense at every second lifting the greatest amount.
Technical data of the industrial oiler:
Container capacity: 200 ml
Material of container: zinc die casting, Z 410, DIN 1743
Lacquering container: metallic-grey
Volume per stroke pump: 1 ml/stroke
Length of spout: 135 mm
Material of spout: Aluminum
Height (mm): 270
Display storage dimensions LxB (mm): 120 x 60
Weight (kg): 0,445
Specification:
Impact-proof and robust
Ergonomic design
Double-acting brass pump
Ball bearing mounted and gravity controlled suction tub, enables containers to be almost completely emptied
Pump enables drip feed
All valves are ball valve type
Sealing mechanism, with drip collector pan
High surface quality
With bar code
The industrial oiler are also available in the following sizes (please order by telephone, fax or e-mail).
Industrial oiler 03 903: 300 ml
Industrial oiler 03 905: 500 ml
The industrial oiler are also available in the following combinations for affordable total prices:
Furthermore you find the following accessories here in the shop:
If you miss something, please order per E-Mail, Fax or phone. How to reach us.
All dosers from fine oiler to hand atomizer can be found here.
At the Ballistol-Shop you get all Pressol brand products. If you are looking for a special product, please call us or send us an e-mail or fax. We advise you with pleasure.

Further Information


Get to know Ballistol Universal Oil – proven since 1904.

Here you will find all all Oiler and Dispenser. Here we offer environmentally friendly alternatives to spray cans with propellant gas and also precision oil pens to dose your oil drop by drop.
Industrial oiler of zinc die cast with double-acting brass pump.
---