Tissues of Neo Ballistol home remedy 10 pc.
Product No.:

26250x10

Immediately ready for shipping


Delivery time 1 - 3 days inside Germany (

further

)

for deliveries abroad to the EU, Switzerland (CH) or Luxembourg (LU) within 3 - 5 days
for all other foreign deliveries within 7 - 14 days

Sliding-scale prices
: from 5,15 EUR to 5,65 EUR
3 pcs
per 5,65 EUR
10 pcs
per 5,32 EUR
20 pcs
per 5,15 EUR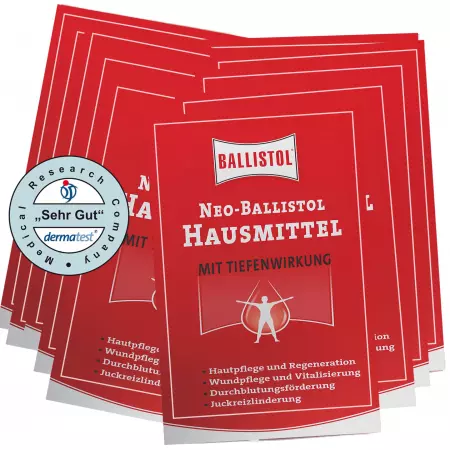 Neo Ballistol home remedy wipes / tissues for holiday and on the way.
You don't want to miss your Neo Ballistol home remedy in holiday, but it may not take into the aircraft or you don't want to take glass bottles? Here are the practical tissues with Neo Ballistol home remedy. Clean and separate wrapped tissues for the care while holiday and on the way. These tissues we provide also with Ballistol universal oil with Animal the proven animal care oil and with p|397|Ballistol stichfrei the tropicalized insect repellent#. With these tissues, you are best equipped ‐ not just for the holidays.
Neo Ballistol home remedy is the insider's tip of the household remedies consists of time-proven natural ingredients and medically pure white mineral oil with ethereally oils. It is still produced in exactly the same composition today as it was 90 years ago. Through its ingredients and its careful manufacture, it regenerates the skin, making it soft and supple. Many hospitals use it for the prevention of bedsores for patients who spend a long time in bed.
Here you find all sizes and variations of Neo Ballistol at a glance

Neo Ballistol also acts against calluses and brittleness of the nails. Rubbing your feet with Neo Ballistol home remedy prevents the formation of blisters. With small wounds it has a disinfecting effect, supporting rapid healing. It is also ideal as a lip balm and for care after shaving. As massage oil, it effectively promotes circulation in the skin and the muscles.

Numerous customer reports demonstrate that the Neo Ballistol home remedy traditionally works very effectively in all possible instances. It is ideally taken on holiday and should never be missing from your home medicine cabinet. It is also used in digestion problems, for wound healing and for first aid during expeditions. Neo Ballistol home remedy has been given a 'very good' rating in all dermatological tests.
Neo Ballistol home remedy with essential oils is proven as massage oil as well as for skin care and wound care. Use Neo-Ballistol as massage oil and your skin will rejuvenate, as blood circulation will be endorsed. Neo-Ballistol care oil is also ideal for the use in hospital to avoid skin soreness from lying in bed. Or, just use it to remove make-up.

As nail oil Neo Ballistol is applied for manicure and pedicure (here you find more information about Neo Ballistol as Nail Oil). Fingernails and toenails remain naturally elastic and won't become rough. Neo Ballistol contents natural and proven ingredients and medically pure white oil. Because of its composition and tightly controlled production in pharmaceutical quality Neo Ballistol home remedy is ideal as universal maintenance oil.

Neo Ballistol is often described as an insider tip for problems in which other agents can not help.
The main features at a glance:
Neo Ballistol Oil:
is suitable for skin care for hands, feet and the whole body,
will successful applied as massage oil,
is easy to massage in and soothes itching,
regenerates and relaxes the stressed skin,
moves quickly into the skin,
is also suitable for sensitive skin,
make dry, brittle and scaly skin soft and elastic,
is ideal for nail care,
prevents nail fungus,
prevents shear off of fingernails and toenails,
make brittle nails elastic again,
prevents the ingrown of the nails,
prevents bedsores,
acts disinfecting,
is ideal for wound care,
interacts as a protective liquid glove in rough work,
is composed of proven herbal ingredients in medical quality and pure white oil,
contains many essential oils like mint oil and aniseed oil,
is made without preservatives,
is recommended by dermatologists,
proven since 90 years in many different applications.

Neo Ballistol is also a component of the 54-part Home Pharmacy and also of the Travel Pharmacy Kit.

Further Information

Here you will find special products for body care.


Neo Ballistol Home Remedy: Relax, care and heal.

Tropicalized insect repellent with UV-Filter, which keeps you annoying insects from the body - whether mosquitoes, ticks, flies, etc.


Also Ballistol Universal Oil is suitable for body care and wound disinfection. More about this can be found in the Ballistol Story.


You have pets - here you will find proven care products for animal care. Ballistol Animal is a universal and effective care oil for all animals.

Neo Ballistol home remedy wipes / tissues for holiday and on the way.
---