Apothecary bottle clear glass 50 ml
Immediately ready for shipping


Delivery time 1 - 3 days inside Germany (

further

)

for deliveries abroad to the EU, Switzerland (CH) or Luxembourg (LU) within 3 - 5 days
for all other foreign deliveries within 7 - 14 days
1 piece
1,10 EUR*


(Groundprice: 1,10 EUR pro piece)

Product No.:

GFR50

10 piece
10,45 EUR*


(Groundprice: 1,05 EUR pro piece)

Product No.: GFR50x10

50 piece
49,50 EUR*


(Groundprice: 0,99 EUR pro piece)

Product No.: GFR50x50

100 piece
93,50 EUR*


(Groundprice: 0,94 EUR pro piece)

Product No.: GFR50x100

200 piece
176,00 EUR*


(Groundprice: 0,88 EUR pro piece)

Product No.: GFR50x200

500 piece
412,50 EUR*


(Groundprice: 0,83 EUR pro piece)

Product No.: GFR50x500
*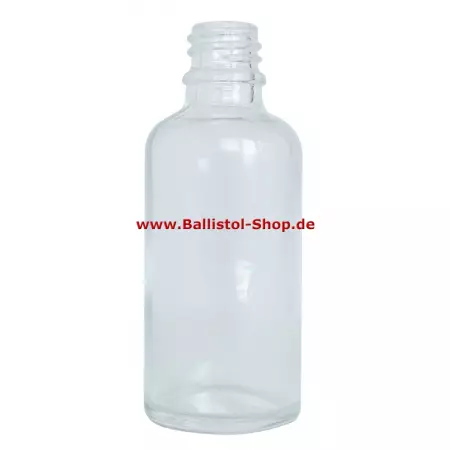 Apothecary bottles clear glass 50 ml
Our pharmacy bottle is suitable for almost all cosmetics, oils and solvents. Also for essential oils and cleaners based on alcohol or terpenes can be bottled.
For the Apothecary Bottle, we also offer a pipette for apothecary bottles with safety screw cap.
In addition, there is the Apothecary bottle completely in a set with screw cap and pipette as a ready-made pipette bottle or as a Clear glass bottle with screw cap and child proof cap 50 ml.
For example, the Apothecary Bottle is perfect for the following products:
Neo Ballistol home remedy
PTFE oil
Silicone oil
Penetrating oil
lube
Technical data of the pharmacy bottle
Nominal volume: 50 ml
Full volume: 56 ml
Diameter: 37 mm
Height: 92 mm
Weight: 58 g
Label size maximum: 116 mm x 56 mm
Thread: 18 mm (DIN 18)
---