Applicator Pro for bluings solvents and oils
Immediately ready for shipping


Delivery time 1 - 3 days inside Germany (

further

)

for deliveries abroad to the EU, Switzerland (CH) or Luxembourg (LU) within 3 - 5 days
for all other foreign deliveries within 7 - 14 days
1 piece
0,35 EUR*


(Groundprice: 0,35 EUR pro piece)

Product No.:

BCSO1000

1 piece - extra long
0,39 EUR*


(Groundprice: 0,39 EUR pro piece)

Product No.: BCSO1001

10 piece
3,33 EUR*


(Groundprice: 0,33 EUR pro piece)

Product No.: BCSO1000x10

10 piece - extra long
3,82 EUR*


(Groundprice: 0,38 EUR pro piece)

Product No.: BCSO1001x10

20 piece
5,95 EUR*


(Groundprice: 0,30 EUR pro piece)

Product No.: BCSO1000x20
20 piece - extra long
6,75 EUR*


(Groundprice: 0,34 EUR pro piece)

Product No.: BCSO1001x20

50 piece
14,00 EUR*


(Groundprice: 0,28 EUR pro piece)

Product No.: BCSO1000x50

50 piece - extra long
16,00 EUR*


(Groundprice: 0,32 EUR pro piece)

Product No.: BCSO1001x50

100 piece
26,25 EUR*


(Groundprice: 0,26 EUR pro piece)

Product No.: BCSO1000x100

100 piece - extra long
30,25 EUR*


(Groundprice: 0,30 EUR pro piece)

Product No.: BCSO1001x100

250 piece
56,68 EUR*


(Groundprice: 0,23 EUR pro piece)

Product No.: BCSO1000x250

250 piece - extra long
66,68 EUR*


(Groundprice: 0,27 EUR pro piece)

Product No.: BCSO1001x250
*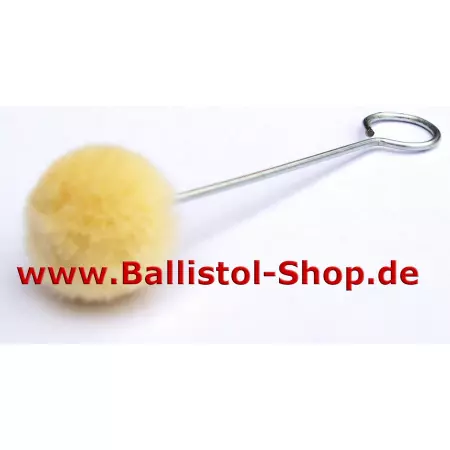 Applicator Pro for applying bluings, solvents and oils for perfect results
Our professional applicators are soft and yet not lose any hair. The applicator is resistant to all chemical agents and can used for bluings, harsh solvents and for all of our oils.
The applicator ensures safe and homogeneously distribution of the liquid. Unlike brush or sponge the applicator reduce the risk of get drops of the chemical or oil on the workpiece inadvertently what caused patchy bluing results. This is because the applicator Pro keeps the liquid until contact with the material and dispense it homogeneously then. In addition, bacause of the spherical shape, a fine brushwork is possible, so that locations even can be spared.
To emphasize ist also, tthat the applicator dispense high viscosity liquids homogeneously as well as thin liquid chemicals.,
Dimensions of the Applicator
Diameter of the textile ball: about 20 mm, compressible to approximately 6 mm.
Standard: Length about 90 mm
Extra long: Length about 150 mm
Very fine steel wool ensures perfect browning results:

In preparation of the metal for the bluing you should use very fine steel wool with fineness degree 00. Also for oiling a new bluing this steel wool is the first choice. If you are working in a humid environment, a stainless steel wool is possibly of interest to you.


Further Information


Get to know Ballistol Universal Oil – proven since 1904.

Here you will find all all Oiler and Dispenser. Here we offer environmentally friendly alternatives to spray cans with propellant gas and also precision oil pens to dose your oil drop by drop.
Applicator Pro for applying bluings, solvents and oils for perfect results
---