Silicone-Spray for lubricating without oil and fat
Manufacturer:

Ballistol

Immediately ready for shipping


Delivery time 1 - 3 days inside Germany (

further

)

for deliveries abroad to the EU, Switzerland (CH) or Luxembourg (LU) within 3 - 5 days
for all other foreign deliveries within 7 - 14 days
Sliding-scale prices
: from 5,09 EUR to 9,20 EUR
200 ml
3
5,35 EUR
6
5,27 EUR
12
5,20 EUR
18
5,13 EUR
24
5,09 EUR
400 ml
3
9,20 EUR
6
9,07 EUR
12
8,94 EUR
18
8,81 EUR
24
8,75 EUR
200 ml
5,49 EUR*


(Groundprice: 27,45 EUR pro Liter)

Product No.:

25300

/ EAN:

4017777253009

400 ml
9,45 EUR*


(Groundprice: 23,63 EUR pro Liter)

Product No.: 25307 / EAN: 4017777253078
*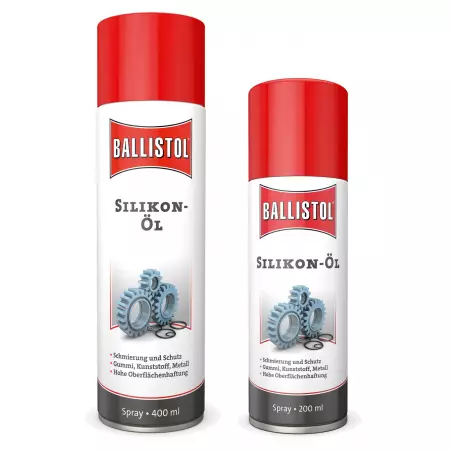 Silicone Spray for lubricating without oil and fat
Silicone spray is a lubricant, releasing agent, isolating agent, care medium and a mineral oil free and clean alternative to oils and fats. Silicone spray lubricates and protects stainless and invisible parts made of rubber, plastic, wood, leather, metal, glass, textiles, etc. which material accommodating care needs. The silicone layer protects the material against the weather, is invisible and do not adhere. Moreover, the protective film is extremely stable from -50 ° C to +200 ° C. The main areas of application of silicone spray are very broad and are in industrial, household, gardening, car, motorcycle, recreation and outdoor.
Silicone-oil or silicone spray?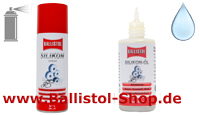 When to use the dropper bottle with liquid silicone oil and when silicone spray is more appropriate? The answer is quite simple: Whenever you need to oil precisely or pinpoint accuracy, the silikon-oil dropper bottle is the best choice. If you want to apply the silicone oil evenly on the surface, you should use the silicone spray.
The main features at a glance:
Silicone Spray
Is lubricant, releasing agent, isolating agent and care medium.
For mineral oil free and clean lubrication.
Prevents freeze on of rubber in car doors and refrigerators, etc.
Reduce wear and noises of treadmills for example.
Suitable for sealing and impregnation of ignition.
Impregnates textiles, leather, tarpaulins, tents, latex, etc.
Greases, cares and protects all materials.
Prevents that dry rubber or will be porous.
Does not leave a greasy film behind and do not adhere.
Protects from moisture, corrosion, rust and oxidation.
Material accommodating for all materials.
For indoor and outdoor.
Stainless lubrication also in contact with textiles.
Eliminates creak noise.
Acts as isolating spray and prevents surface leakage.
Allows material accommodating care.
Acts water repellent, dust repellent, antistatic and do not resinify.
With a stable oil film from -50 ° C to +200 ° C.
Environmental Protection:
Klever silicone spray contains no environmental toxins. The solvent used is biodegradable.
Similar products:
PTFE Spray better known under the brand name Teflon™ is also a product for mineral oil free lubrication or to manufacture high sliding even if different materials rub together. Teflon™ is a trademark of The Chemours Company FC, LLC used under license by F.W. Klever GmbH.
Pluvonin Impregnation spray impregnates all natural and synthetic fibers.

Further Information

Get to know Ballistol Universal Oil – proven since 1904.
This Impregnation spray keeps tight – even with textile fiber or synthetic fiber. Watch our video and see yourself what, Pluvonin is able to di in comparison with other impregnation sprays.


Ballistol PTFE-Spray ensures a hygienically dry lubrication.


Assembly Spray facilitates assembly and disassembly and protects the surfaces.


Here you find all Oiler, dispenser and atomizer as an environmentally friendly alternatives to spray cans with propellant gas and also precision oil pens to dose your oil drop by drop.

Silicone Spray for lubricating without oil and fat.
Kennzeichnung gemäß Verordnung (EG) Nr. 1272/2008 [CLP/GHS]


Signalwort: Gefahr

Gefahrenhinweise für Gesundheitsgefahren

H222 Extrem entzündbares Aerosol.
H229 Behälter steht unter Druck: Kann bei Erwärmung bersten.
H315 Verursacht Hautreizungen.
H335 Kann die Atemwege reizen.
H336 Kann Schläfrigkeit und Benommenheit verursachen.
H411 Giftig für Wasserorganismen, mit langfristiger Wirkung.

Sicherheitshinweise

Allgemeines

P101 Ist Ärztlicher Rat erforderlich, Verpackung oder Kennzeichnungsetikett bereithalten.
P102 Darf nicht in die Hände von Kindern gelangen.

Prävention

P210 Von Hitze, heißen Oberflächen, Funken, offenen Flammen sowie anderen Zündquellenarten fernhalten. Nicht rauchen.
P211 Nicht gegen offene Flamme oder andere Zündquelle sprühen
P251 Nicht durchstechen oder verbrennen, auch nicht nach Gebrauch.
P261 Einatmen von Staub/Rauch/Gas/Nebel/Dampf/Aerosol vermeiden.
P271 Nur im Freien oder in gut belüfteten Räumen verwenden.

Reaktion

P302 + P352 BEI BERÜHRUNG MIT DER HAUT: Mit viel Wasser/... waschen.

Lagerung

P405 Unter Verschluss aufbewahren.
P410 + P412 Vor Sonnenbestrahlung schützen. Nicht Temperaturen über 50 °C/122 °F aussetzen

Entsorgung

P501 Inhalt/Behälter Recycling zuführen.
---