Silicone-Spray for lubricating without oil and fat
Manufacturer:

Ballistol

Immediately ready for shipping


Delivery time 1 - 3 days inside Germany (

further

)

for deliveries abroad to the EU, Switzerland (CH) or Luxembourg (LU) within 3 - 5 days
for all other foreign deliveries within 7 - 14 days
Sliding-scale prices
: from 5,09 EUR to 9,20 EUR
200 ml
3
5,35 EUR
6
5,27 EUR
12
5,20 EUR
18
5,13 EUR
24
5,09 EUR
400 ml
3
9,20 EUR
6
9,07 EUR
12
8,94 EUR
18
8,81 EUR
24
8,75 EUR
200 ml
5,49 EUR*


(Groundprice: 27,45 EUR pro Liter)

Product No.:

25300

/ EAN:

4017777253009

400 ml
9,45 EUR*


(Groundprice: 23,63 EUR pro Liter)

Product No.: 25307 / EAN: 4017777253078
*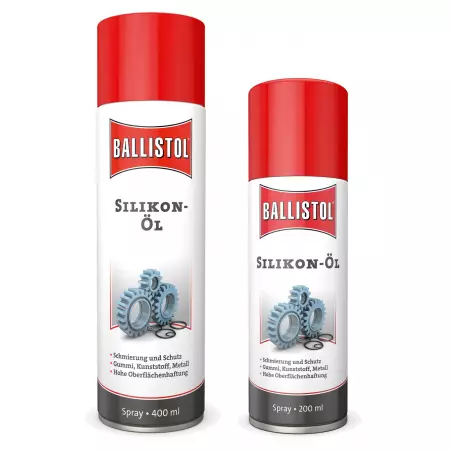 Silicone spray
Why silicone spray?
Silicone spray is a lubricant and lubricant; but also a release agent and insulating agent and care product. It is suitable for mineral oil-free lubrication of all materials and is a clean and odorless alternative to other lubricants containing oils and greases. It has a low surface tension and therefore wets all surfaces very well. Silicone itself, on the other hand, can hardly be wetted, which is why it repels water and dirt well. That's why it is very popular as a release agent and lubricant.
Silicone spray (sometimes also called silicone spray) replaces other unwanted or unsuitable lubricants and protects all parts made of rubber, plastic, wood and leather (especially artificial leather) but also metal, glass, textile, etc. that are compatible with the material. require the same care. The silicone layer protects the material from the effects of the weather and is invisible and does not stick. In addition, the protective film is extremely stable in a temperature range of -50 °C to +200 °C. Silicone spray also prevents adhesions and sticking of materials that either lie on top of each other for a long time (e.g. door rubbers) or are processed under high pressure (e.g. in presses).
Silicone spray applications

Due to its outstanding properties, the product is used in many areas. A list can therefore never be complete.
Grease doors and windows
It is ideal for the care of plastic roller shutters. If the roller shutter squeaks, simply lubricate the guide rails on the right and left. The roller shutter armor itself can also be protected from embrittlement with silicone spray.
Door seals and window seals always remain supple thanks to the spray, and therefore seal better than unkempt, dirty or brittle sealing rubbers.
To lubricate the window fittings you can use a cylinder spray, which you can also use to lubricate a door lock. In principle, the silicone spray is also suitable for a door lock, but the lubricating effect is better with a cylinder spray.
To lubricate a garage door, silicone spray is completely sufficient. Almost all rollers on up-and-over doors and sectional doors are made of plastic. You can also use it to perfectly care for all other plastic parts and metal connections and bearings on the garage door.
Care for your car with silicone spray
There are many recommendations for using silicone spray when caring for cars and other vehicles. Some of them are wrong and lead to problems.
Silicone spray on the car is suitable for this
Door seal:
Silicone spray works against freezing and embrittlement. Since the silicone has a water-repellent effect, the ice layer that forms is insulated and does not stick to the door rubbers. This is how you prevent a frozen car door. At the same time, all-round rubber seals on doors, trunk lids and sunroofs always remain supple and do not become brittle. If the car door is frozen, only heat will help – e.g. with a hair dryer.
Plastic parts:
Plastic parts:
Older cars, youngtimers and vintage cars in particular often have black plastic parts on the outside. These fade due to UV radiation and become brittle over time. If you care for such parts with silicone spray, the black plastic will look like new again. If you regularly care for plastic parts that are exposed to the weather, this increases their lifespan enormously.
Tires:
If you value the appearance of your tires, you can also use silicone spray. But be careful: it is a lubricant and therefore should under no circumstances be used on the treads or brakes. If you want to apply care products to the tires, then only to the sidewalls. But the flanks must not be sprayed directly either. It's best to spray a rag and rub very sparingly from the rim towards the tread.
The perfect solution for smearing windshield wipers is cleaning and care with a little silicone spray. The wiper rubber of the windshield wiper ensures the lubricating film even on the smallest contamination. However, do not spray the silicone directly onto the windshield wiper – that would be far too much. Simply spray onto a clean cloth and use it to treat the wiper rubber. So it no longer smears.
The second cause of smeared windows is dirt on the window. While driving, you can quickly improve visibility using the washer/wipe system. However, the cause cannot be completely eliminated with this method. The windshield needs to be cleaned. You can do this with glass cleaner or by visiting the car wash.
By the way: even if the windshield wiper jerks, cleaning it with silicone spray will help.
Silicone spray for car windows:
You can also safely care for the rubber on the side windows with silicone. As with the wiper rubbers, do not spray the window rubbers directly, but rather spray onto a clean cloth and then use this to treat the window rubbers.
Some cars have a squeaking problem with the rubber trim on the car windows. This problem can also be solved very easily and quickly with silicone spray. The spray is applied under the sealing lip and through movements while driving – especially when cornering – The silicone is distributed evenly. In some cases, the process needs to be repeated if the squeaking car windows have not yet been completely eliminated.
Silicone spray as cockpit spray:
Cockpits made of plastic can be treated very nicely with silicone spray as a cockpit spray. Many cockpit sprays are based on silicone anyway. There are also other cockpit sprays that clean with alcohol and apply a protective layer with waxes or other agents. Since there are many different plastics available today, we generally recommend testing all sprays in an inconspicuous area. Then, when you are happy with the look, treat the entire cockpit.
Silicone spray repairs belt retraction mechanism:
If the seat belt no longer winds up on its own, the retractor mechanism is usually no longer usable. In this case, silicone spray is the best option. Mineral oil-based oils are completely unsuitable for the mechanics and the belt itself and also dirty clothing.
How to repair the belt retractor mechanism:


Pull the belt completely out. Place a large cloth over the seat.
Spray the belt lightly from a distance of 25 to 30 cm and allow it to roll up again. It is sufficient if you only spray the end of the strap (the last 50 cm to 1 meter).
Repeat the process with the back of the strap.
Then let the belt roll in and out several times.
If the effect is not enough, you can repeat the process.
Finally, wipe the belt with a clean cloth.
Unsuitable: You shouldn't do this with silicone spray on your car
V-belt squeaks:
Squeaky V-belts must not be treated with silicone spray. V-belts work through adhesion. The spray reduces adhesion and the V-belt spins. It then no longer squeaks but it also no longer works.

In almost all cases, the squeaking noise indicates that the wear limit is about to be reached. The V-belt slips and can no longer immediately follow the movement of the drive wheel. This usually starts with cold and damp conditions. Sometimes slight tightening can help. In almost all cases, however, a new V-belt will be necessary sooner or later. Special V-belt sprays eliminate the squeaking noise, if at all, only for a very short time.
This is how the V-belt stops squeaking:
Be careful when re-tightening: an over-tightened V-belt can even destroy the bearings of the units it is supposed to drive. This is mainly the alternator. After all, that's what the V-belt is there for. You should therefore think about replacing it if your V-belt squeaks.
Silicone spray on tires:
It must not be used on tire treads. Silicone is a lubricant. As described, you can care for the tire sidewalls if you follow the instructions described above.

Pedal rubbers

for gas, clutch and brake are used thousands of times with shoes and look accordingly. However, you are not allowed to improve the appearance of these with silicone spray. Too big is the risk of slipping off the pedal. If the look bothers you, replace the pedal rubbers with new ones.
Other applications

It is not suitable for this:
The stairs creak, laminate floors creak and the wooden floorboards creak

– Silicone spray helps, if at all, only for a short time. Unfortunately, silicone spray cannot permanently help with creaking floors. The problems can only ever be solved constructively because the creaking comes from movements and friction, which wears out the silicone after a while.
If the slatted frame squeaks silicone spray only helps for a short time. It's always small friction that leads to the squeaking noises. Sometimes it's the bed frame that squeaks. In these cases, tightening the connecting screws usually helps. If the cause is two slatted frames rubbing together, a piece of felt between the slatted frames can help.
It is suitable for this:
Silicone spray for the refrigerator seal is ideal. Silicone is even the care product of choice for the freezer. Because it is also effective at high temperatures below zero. This means the seals remain supple and close permanently.
If the zipper gets stuck silicone spray is often used. If necessary, cover the textiles or spray on a cloth to make the zipper work again. However, it is easier to use the dropper bottle with liquid silicone oil for stuck zippers.
In the sports sector, the mineral oil-free lubricant is used, for example, on the treadmill. Regular care of the treadmill not only prevents squeaks, but also keeps the rubber supple and reduces wear. and the load on the engine.
The hedge trimmer requires lubricants and works in nature. We therefore recommend avoiding mineral oils for lubrication and instead using silicone spray or Ballistol universal oil for hedge trimmers.
Prams are lubricated and cared for with silicone spray. Firstly, no minerals get on the stroller and secondly, it is suitable for all applications on the stroller.
Even slides are treated with it. If the sliding surface is no longer slippery, simply spray it and wipe it off.
Silicone spray can also be used to impregnate textiles, for example in outdoor areas. Artificial leather, tents, tarpaulins, latex, convertible roofs, etc. are made water-repellent and protected from the elements. If you only want to waterproof, you can also use our Impregnation spray for all natural fibers and synthetic fibers.
In industry, the mineral oil-free lubricant is often used as a release agent, for example when casting, or as an assembly spray, for example for hoses, pipes, O-rings, fittings, etc., as well as to prevent used to remove adhesions and to improve gliding activity. In the area of paper processing and wood processing, the lubricant is used to prevent residues of paper, wood or adhesives from sticking to the presses and machines. Cutting tools and cutting edges are also treated with silicone spray to enable easy cutting and a clean result.
In

Logistics

it is used to increase the sliding properties of conveyor belts and thus prevent the goods being transported from sticking.
Silicone spray has an insulating effect and offers resistance to electrical currents. It is used, for example, for insulation or impregnation of ignition systems.
Silicone spray is also used as a lubricant or aid for putting covers and jersey tubes

on foam

. The best way to do this is to lightly spray the long sides of the foam. The silicone significantly reduces the high sliding friction between the cover and the foam, making it easier to cover.
Silicone spray is also used in a variety of ways on bicycles and motorcycles. It is not ideal as a chain oil. Professionals often use it as a second coat after using chain oil because it prevents new contamination very well. Otherwise, it can be used very universally on bicycles and is also available as a Bicycle Silicone Spray.
that has been specially optimized for bicycles
Correct application
Before using silicone spray, make sure that the surface is dry, clean and free of grease. For dirty and outdated parts, it is best to use our degreaser for pre-treatment. Shake the can well shortly before use so that the silicone can be evenly distributed in the carrier solution. Then spray Ballistol silicone spray evenly from a distance of approx. 25 cm and allow to dry. If necessary, polish again with a soft, clean cloth. The process can also be repeated to increase the effect.
Frequently asked questions
What is dry silicone spray?
This is false information that appears to be circulating on the Internet. Silicone spray is not a dry lubricant. Dry lubricants are usually powdery solid lubricants such as graphite, PTFE (mainly known under the brand Teflon) or ceramics, etc. There is no dry silicone spray. If you are looking for a dry lubricant, the question is not, silicone spray or Teflon spray, but: What should be lubricated? will be.
Is silicone spray food safe?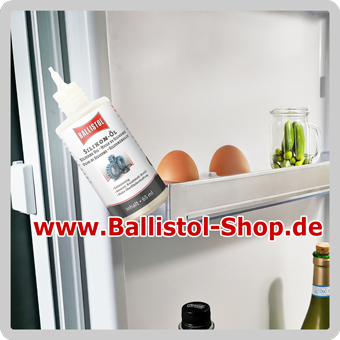 Silicone is tasteless, chemical-resistant and temperature-resistant. Chemically and physiologically it is inert for the human body, i.e. particularly inert. For the synthetic product silicone, there is no way to metabolize it. Therefore, according to current knowledge, silicone in its pure form is not toxic to living beings. Whether silicone spray is also food-safe is a legal question because approval is required for such a designation. Such approval is very complex and involves high costs. Therefore, sprays are used for the "food" application area. specially prepared and submitted for the approval process. Ballistol silicone oil does not have this approval because the special product Ballistol H1 food oil already covers this area.
Silicone spray as contact spray?
Silicone spray is not suitable as a contact spray. Here, too, misrepresentations persist on the Internet. It insulates and has a water-repellent effect. Contact spray is primarily a cleaner and ensures that there is no insulation between two components, but that the current can flow unhindered. Silicone does the opposite. The misrepresentation is probably based on the fact that the spray can be used to insulate electrical components well and protect them from moisture.
Why is the property "silicone-free" often used in products? particularly highlighted?
As described above, silicone is an excellent release agent and isolates the surface from adhesions. However, it is precisely this property that is undesirable for various coating work. Especially when painting, for example in the paint booth for car bodies, there should be no silicone residue on the surface. For this reason, paint shops, for example, do not like to use products containing silicone for certain jobs. Even a silicone-based skin cream that a painter uses before work can cause the paint job to fail. Silicone removers are therefore one of the most important products for work preparation in the paint shop. Ballistol silicone spray is very uncomplicated and effective to use and brings the desired effects quickly and for a long time. That's why it is a universal care product that can be used in a variety of ways, from polishing to protecting surfaces. However, if you want to coat surfaces with other materials such as varnish, a release agent such as silicone must be removed beforehand.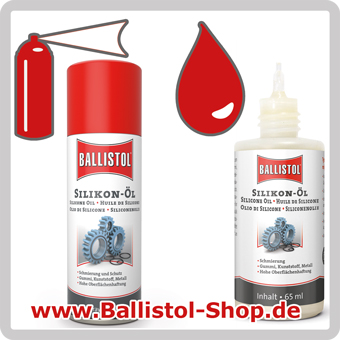 Silicone spray 400 ml or 200 ml or silicone oil?
When do you use the dropper bottle with liquid silicone oil and when is the spray more suitable? The answer is quite simple: Whenever you need to be precise or precise, liquid silicone oil is the best choice. If you want to apply the silicone evenly and flatly, use the spray.
Where can I buy silicone spray?
Ballistol silicone spray is known as a high-quality product made in Germany and can be purchased fresh here in the brand shop or in the
warehouse sale/p>. Take the test.
Dieses Produkt kann auch im besonders günstigen Six-Pack mit 10% Rabatt bestellt werden.
Im Ballistol Sixpack wird für eine begrenzte Auswahl aus dem Ballistol Sortiment 10% Rabatt auf die von Ihnen gewählten Produkte gewährt. Egal ob Sie 6 mal das gleiche Produkt wählen oder je 1 Stück in die sechs Fächer des SixPacks stellen - Sie können aus 32 SixPack-Produkten wählen und individuell zusammenstellen. Dazu gibt es einige Produktproben und weitere Zugaben.
The most important features at a glance:
Silicone spray:
is a lubricant, lubricant, release agent, insulating agent and care product
Ensures mineral oil-free and clean lubrication
Prevents rubber from freezing on car doors, refrigerators, etc.
keeps rubber elastic
Prevents rubber and plastics from drying out and becoming brittle
reduces wear and tear and dampens noise, e.g. from treadmills
Suitable for sealing and impregnating ignition systems
Suitable for lubricating ski bindings, Bowden cables and much more.
allows wooden drawers to slide perfectly
lubricates cylinder locks with a thin, never resinous lubricant film
Impregnates artificial leather, tarpaulins, tents, latex, etc.
lubricates, maintains and protects all materials and materials
Does not leave a greasy film and does not stick
Protects against moisture, corrosion, rust and oxidation
is suitable for inside and outside
eliminates squeaking and creaking noises
acts as an insulating spray and prevents leakage currents
is water-repellent, dust-repellent and antistatic
creates a stable lubricating film from -50 °C to +200 °C
Gives weathered plastics and rubber a new look
Disadvantages of silicone spray
Silicone is difficult to remove. Silicones are insensitive to almost all solvents. In order to technically completely remove silicone from surfaces, for example, you absolutely need real silicone removers. All home remedies recommended on the Internet are not suitable for professional purposes. Problems arise, for example, when surfaces wetted with silicone have to be painted, coated or glued.
Silicone is distributed in the spray mist. A spray cannot be precisely controlled. If you want to apply the silicone precisely or in a limited area and not over a large area, liquid Silicone Oil is more suitable.
Silicone spray alternative
Silicone spray is actually the alternative – namely for all lubricants based on minerals. If you are still looking for other alternatives that are neither based on mineral oil nor silicone, then dry lubricants based on PTFE, graphite remain or ceramic particles. Combinations of liquid lubricants with dry lubricants as a combination are also possible.
Here you will find corresponding alternatives to silicone spray:
Conclusion
Due to its properties, silicone spray is an almost universally applicable alternative to mineral oil-based lubricants and care products. Since silicone does not attack plastic or rubber, it is often used for such materials. It is also tasteless, odorless, chemical-resistant and temperature-resistant and is therefore incredibly versatile.
Environmental protection
Ballistol silicone spray does not contain any substances that are harmful to the environment. The solvent used is biodegradable.
Downloads:
Product data sheet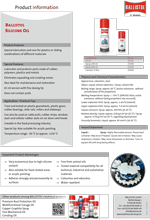 Schnell-Vergleich Ballistol-Schmierstoffe


Sie möchten nicht alle Details in den Produktbeschreibungen nachlesen. Für eine schnelle Übersicht und den Vergleich der Ballistol-Schmierstoffe und Sprays haben wir eine Tabelle mit den wichtigsten Kriterien der Schmierstoffe vorbereitet und die jeweils am besten geeigneten Produkte gekennzeichnet. Unter Ballistol-Vergleich finden Sie schnell das richtige Schmiermittel von Ballistol.
Kennzeichnung gemäß Verordnung (EG) Nr. 1272/2008 [CLP/GHS]


Signalwort: Gefahr

Gefahrenhinweise für Gesundheitsgefahren

H222 Extrem entzündbares Aerosol.
H229 Behälter steht unter Druck: Kann bei Erwärmung bersten.
H315 Verursacht Hautreizungen.
H335 Kann die Atemwege reizen.
H336 Kann Schläfrigkeit und Benommenheit verursachen.
H411 Giftig für Wasserorganismen, mit langfristiger Wirkung.

Sicherheitshinweise

Allgemeines

P101 Ist Ärztlicher Rat erforderlich, Verpackung oder Kennzeichnungsetikett bereithalten.
P102 Darf nicht in die Hände von Kindern gelangen.

Prävention

P210 Von Hitze, heißen Oberflächen, Funken, offenen Flammen sowie anderen Zündquellenarten fernhalten. Nicht rauchen.
P211 Nicht gegen offene Flamme oder andere Zündquelle sprühen
P251 Nicht durchstechen oder verbrennen, auch nicht nach Gebrauch.
P261 Einatmen von Staub/Rauch/Gas/Nebel/Dampf/Aerosol vermeiden.
P271 Nur im Freien oder in gut belüfteten Räumen verwenden.

Reaktion

P302 + P352 BEI BERÜHRUNG MIT DER HAUT: Mit viel Wasser/... waschen.

Lagerung

P405 Unter Verschluss aufbewahren.
P410 + P412 Vor Sonnenbestrahlung schützen. Nicht Temperaturen über 50 °C/122 °F aussetzen

Entsorgung

P501 Inhalt/Behälter Recycling zuführen.
---