Fine Steel Wool
Immediately ready for shipping


Delivery time 1 - 3 days inside Germany (

further

)

for deliveries abroad to the EU, Switzerland (CH) or Luxembourg (LU) within 3 - 5 days
for all other foreign deliveries within 7 - 14 days
Sliding-scale prices
: from 0,82 EUR to 1,54 EUR
Fineness 0
3
0,95 EUR
20
0,90 EUR
40
0,89 EUR
60
0,87 EUR
100
0,82 EUR
Fineness 00
3
1,15 EUR
20
1,08 EUR
40
1,07 EUR
60
1,05 EUR
100
0,99 EUR
Fineness 000
3
1,35 EUR
20
1,26 EUR
40
1,25 EUR
60
1,23 EUR
100
1,15 EUR
Fineness 0000
3
1,54 EUR
20
1,45 EUR
40
1,44 EUR
60
1,41 EUR
100
1,33 EUR
Fineness 0
0,99 EUR*


Product No.:

SORSW0

/ EAN:

4003364100801

Fineness 00
1,20 EUR*

Product No.: SORSW00 / EAN: 4003364107800

Fineness 000
1,40 EUR*

Product No.: SORSW000 / EAN: 4003364106803

Fineness 0000
1,60 EUR*

Product No.: SORSW0000 / EAN: 4003364108807
*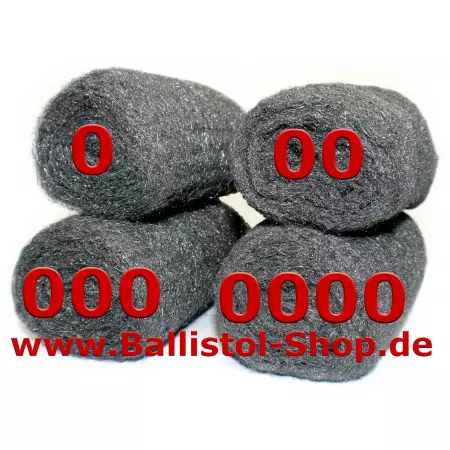 Fine and finest steel wool
Here you will find premium quality steel wool Made in Germany. Basically: with all our steel wool fineness 0000 ‐ 0 also the most valuable stock wood can be treated safely.
Fineness grade of steel wool
Steel wool is distinguished by degrees of fineness. The more zeros, the finer, the higher the numerical value from 1, the coarser is the steel wool.
0000 Extremely fine
The finest variety of steel wool with the marking 0000 is used for polishing waxed wood and to remove water stains on furniture and garden furniture.
000 Super fine
The fineness 000 is perfect for example for intermediate sanding on paint and shellac. One reason why for example owners of guitars, violins, harps and other musical instruments buy this steel wool here.

In addition, with this variety non-ferrous metals such as brass and copper as well as aluminum or silver and other precious metals can be polished to a mirror finish.
00 Very Fine
This steel wool is perfect to prepare the surfaces for blueing and to polish the finished bluing before oiling.

Steel wool with fineness 00 is often used for cleaning glass surfaces and mirrors. Moreover, this variety is perfect to remove contaminants from plastic and metal surfaces. Therefore, Blinds and aluminum window frames are cleaned with this steel wool.
0 fine
Steel wool with the fineness 0 is usually used for cleaning metal surfaces that need no high-gloss finish. This sort reliably removes oxidation and cleaning is also faster with this variety than with noticeably finer steel wool. A common application is therefore the preparation of copper fittings for soldering. Also on linoleum floors as example are installed in many offices and commercial properties, steel wool with the fineness 0 eliminates all attracted contamination or residues of rubber soles etc.
Coarser grades of steel wool
Coarser grades of steel wool with the degrees of fineness 1 (medium fine) to 5 (very roughly) we provide on request.

Order the steel wool without additional shipping costs if you buy for example wood-oils, stock oils or black finishes.
Packaging unit: 1 piece (length about 105 mm, diameter about 55 mm).


Stainless Steel Wool "Extra Fine" for humid environmental:


If you are working in a humid environment with steel wool, this can rust after some time. If you continue to work, the rust stains can leave e.g. on wooden surfaces. So if you want to grind sensitive surfaces in a humid environment longer, you should consider this very fine stainless steel wool.


Further Information


Get to know Ballistol Universal Oil – proven since 1904.

Here you will find all all Oiler and Dispenser. Here we offer environmentally friendly alternatives to spray cans with propellant gas and also precision oil pens to dose your oil drop by drop.
Applicator Pro for applying bluings, solvents and oils for perfect results
---