Oiler of metal 350 ml
Manufacturer:

Pressol

Product No.:

05114

EAN:

4103810051142

Immediately ready for shipping


Delivery time 1 - 3 days inside Germany (

further

)

for deliveries abroad to the EU, Switzerland (CH) or Luxembourg (LU) within 3 - 5 days
for all other foreign deliveries within 7 - 14 days
14,75 EUR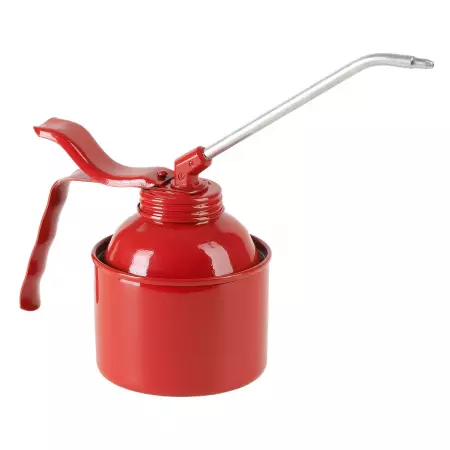 Oiler of metal 350 ml from Pressol with a single acting plastic pump.
This Oiler from Pressol contains no parts of brass and therefore it is also suited to keep Ballistol universal oil for a long term. The pumping station is equipped with ball valves. It is also possible to dose drop by drop.
What is the difference between single acting and double acting pumps?
At double acting pumps, the oiler dispense with each lifting a similar large amount of oil. Oilers with single acting pumps dispense at every second lifting the greatest amount.
Technical data of the oiler
Container capacity: 350 ml
Material of container: steel
Color of container: red, RAL 3000
Length of spout: 135 mm
Material of spout: Aluminum
Height: 120 mm
Base L X B (mm): 145 X 85
Weight: 0,225 kg
Specification of the oiler
Spout aluminum, curved
Ergonomic design
Angled spout enables lubricating in difficult to access locations
Single-acting plastic pump
Robust pump provides trickle feed supply
High surface quality, lacquered with environment-friendly water based paint
This Metal-Oiler is also available in the following combinations and for affordable total prices:
Metal-Oiler 350 ml + Ballistol universal oil 500 ml
Furthermore you find the following accessories here at the shop
At the Ballistol-Shop you get all Pressol brand products. If you are looking for a special product, please call us or send us an e-mail or fax. We advise you with pleasure. Here you will find the contact information.

Further Information


Get to know Ballistol Universal Oil – proven since 1904.

Here you will find all all Oiler and Dispenser. Here we offer environmentally friendly alternatives to spray cans with propellant gas and also precision oil pens to dose your oil drop by drop.
Oiler of metal 350 ml from Pressol with a single acting plastic pump.
---